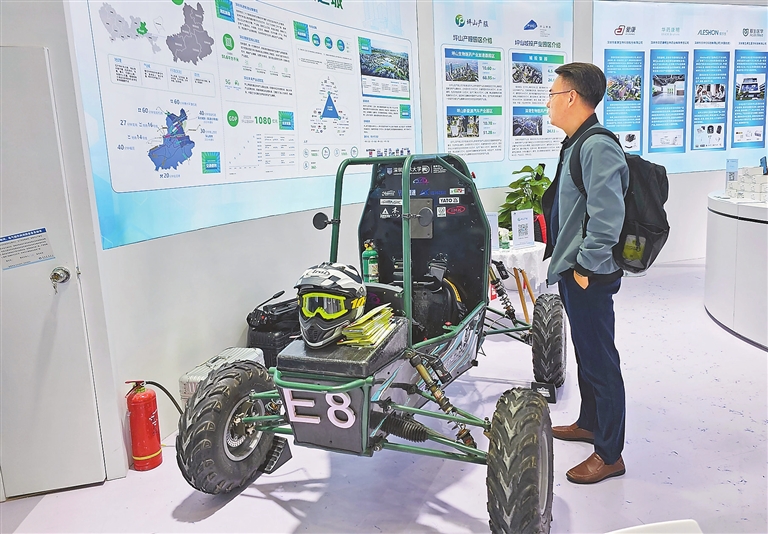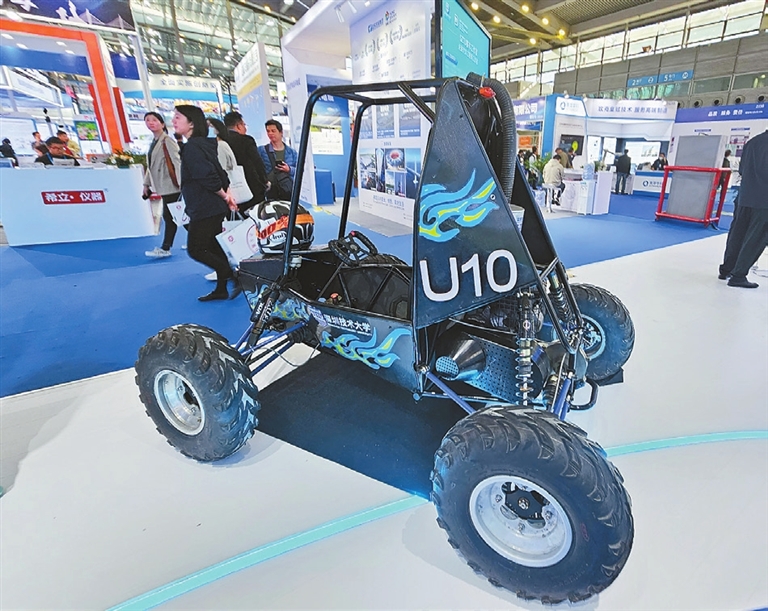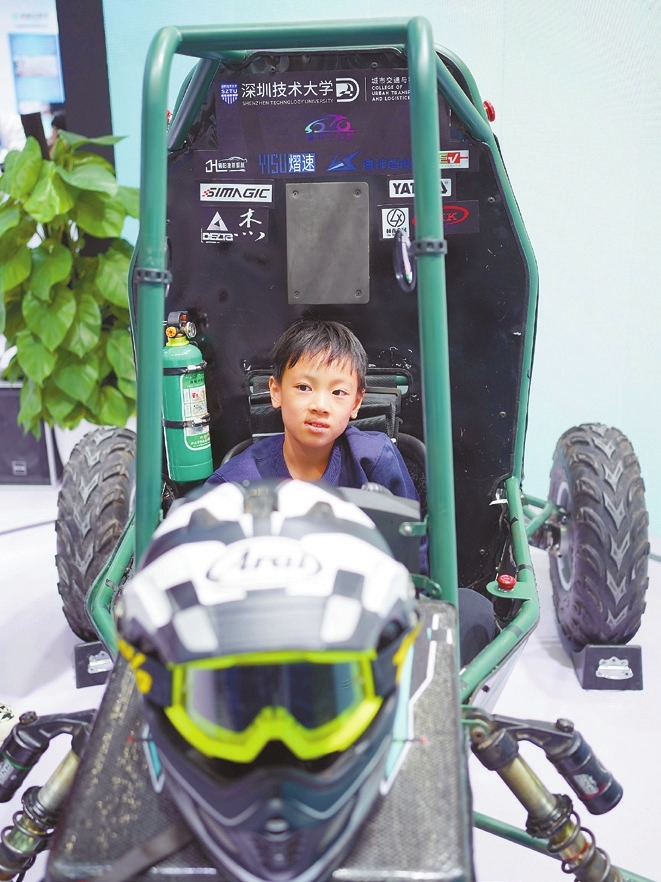 Chen Siqi
vankochensq@163.com
THE global popularity of new energy vehicles (NEVs) is evident, but are you familiar with off-road racing vehicles powered by electricity?
At the 25th China Hi-tech Fair (CHTF), a specially designed vehicle greeted attendees at the pavilion of Pingshan District in Hall 1 of the Shenzhen Convention and Exhibition Center in Futian District.
As a compact off-road electric vehicle with a sleek design and a helmet positioned on its head cover, this unique creation is the outcome of dedicated efforts by a student team from Shenzhen Technology University (SZTU). The vehicle was developed exclusively for Baja SAE China, a competition focusing on designing, manufacturing and testing off-road vehicles, and organized for a consortium of university and vocational college students.
"This vehicle was completed in July and is the first electric Baja racing vehicle developed by our student team," Chen Ziyuan, leader of the team, told Shenzhen Daily. "We took advantage of the experiences gained from the first three generations of fuel-powered racing vehicles to develop this NEV model."
The vehicle was created by a collaborative effort of around 20 students, who were involved in every step of the process, from design and material selection to assembly and fine-tuning. It took the team nine months to turn their initial car design concept into a tangible reality. Powered by a 6.8 kWh battery, the car can reach a range of over 60 km during races, according to Chen.
"Since its inception, we have driven the vehicle for more than 100 km and are constantly looking for improvements," said Chen. He added that they hoped their car would get a good result on the field after running tests and not wasting the hard work of 20 teammates for a year.
The student team is part of SZTU Racing Car Studio, which was established five years ago and currently has more than 200 members. The studio's scope of work includes fuel- and electric-powered Baja racing vehicles, electric formula racing vehicles and driverless vehicles.
The studio also displayed a fuel-powered Baja race car at the university's booth in Hall 2. The car, which took eight months to build, was completed in July. Zeng Shuxian, leader of the fuel car team, said it was a four-wheel race car with an engine. The team took continuous efforts to improve the vehicle, culminating in the successful completion of its competition missions.
While sharing their thoughts on the CHTF, Chen said that visitors were curious and kept asking about the prices of the cars on display, even though they were designed for competition purposes only and not for sale. Chen said they hope to attract potential sponsors who can support the development of higher-quality vehicles.