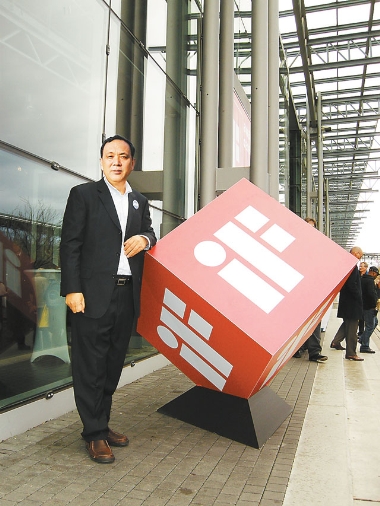 Jane Lai
    BELIEVE it or not, Apple's iPhone and iPod are just that popular — a lot of people around the world are playing with their iPhones and iPods on streets, lifts, subways, at airports, offices and gyms.
    Growing with the popularity of Apple products are sales of Apple accessories and one of the winners in the market is 61-year-old Chinese man Li Yong.
    Li, CEO of Shenzhen-based Wonders Technology Co., was authorized by Apple to launch more than a dozen Apple digital audio products last year, attracting a lot of international attention.
    His DOSS (Dream of Smart Sound) brand has become one of the most renowned digital audio brands for Apple's iPhone, iPod and iPad in the world. Each year, DOSS launches more than 100 products, or 10 per month. One set of wireless speakers had even won a German iF Product Design Award in 2009, a recognized international competition for industrial design.
    So far, there are 27 million Apple consumers in more than 50 countries using DOSS products.
    The age of 60 became a benchmark for Li and an inspiration for existing and potential entrepreneurs.
    From Army man to businessman
    Li joined the Army at the age of 17 and retired from military service at 47, as news department head of the Xichang Satellite Launch Center in Southwest China's Sichuan Province.
    "Before I retired, I had decided to set up my own business and the most attractive destination for me was Shenzhen," recalls Li, who came to Shenzhen in 1998.
    Unlike most Chinese entrepreneurs, Li conquered overseas markets before turning to the domestic market.
    Using his savings, he established Wonders Industrial Development Co. in 1999. He seemed to have been born with an aptitude for business, and decided to sell audio systems for DVD players, which were becoming popular at a time when supporting audio systems were rare.
    The company first designed a line of DVD speakers priced from a few hundred yuan to more than 1,000 yuan (US$152). Good quality and cheap prices ensured the products were well-received, particularly in overseas markets. He then renamed the company Wonders Technology Co.
    "I do remember one of our audio systems that sold so well then because of considerable demand from overseas markets. That helped lay a solid foundation for our conquest of the markets."
    He earned his first pot of gold in the first three years. However, growing with the DVD audio market was also pressure on the first supporting audio systems because of pirated products.
    "Our advantage was in price but we lacked core competence. We soon found a lot of copies of our audio systems and other companies swarming into the market. The markets became increasingly disordered and chaotic."