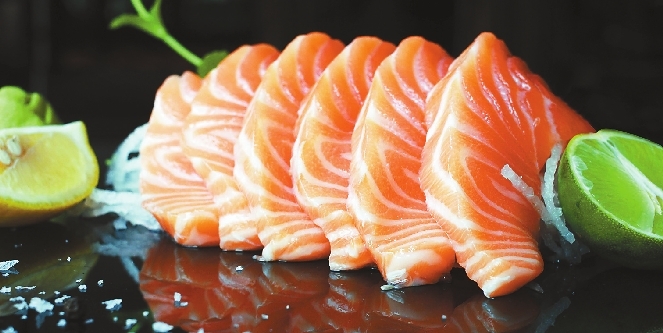 SALMON is an excellent source of high-quality protein, vitamins and minerals (including potassium, selenium and vitamin B12), but it is our succulent, scaly freshwater friend's omega-3 fatty acid content that separates it from the rest. Omega-3 fatty acid is an essential fat that is responsible for the "oily" fish's reputation as a valuable "brain food." Besides being good for your brain, salmon has also proven to benefit your heart, joints, skin and general wellbeing.
The Seasons Restaurant at the five-star Kempinski Hotel Shenzhen is now offering a salmon buffet to treat health-minded gourmets.
As the wild fish are superior in many ways to their farm-raised counterparts, the restaurant promises to serve only quality wild salmon from overseas.
Other than the usual fare, there are some creative salmon dishes on offer. Guests can savor salmon cold noodles, sashimi salmon rolls and smoked salmon in a cream cheese pancake, as well as sushi and sashimi. For a Western cuisine highlight, the homemade smoked salmon is well-marinated and nicely-plated. The creative chef team also prepares steamed salmon with saffron and grilled vegetables served with champagne sauce.
There are such innovative dishes as stir-fried salmon with pine nuts, spicy salmon in Sichuan style, braised salmon in soy sauce and baked whole salmon marinated with Indian spices.
Diners are also offered the option to try non-salmon dishes on the buffet menu, including seafood, beef steaks, salads, fruits and desserts.
Until the end of June, treat yourself to as much salmon as you can tuck in at Kempinski.
The salmon buffet is priced at 428 yuan (US$67.90) per person, inclusive of a 10-percent surcharge and 6-percent VAT.
Time: 5:30-9:30 p.m.
Booking: (0755) 8888-8888 ext. 8321
Add: Haide Street 3, Houhaibin Road, Nanshan District
Metro: Line 2 or 11 to Houhai Station
(Debra Li)