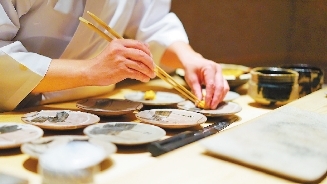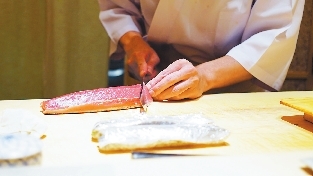 AFTER 18 months of planning and still another three months to go until a massive transformation on the top floor of prestigious Four Seasons Hotel Hong Kong, the world's most sought-after sushi sensation is complete. Three-Michelin-starred Sushi Saito opened March 25.
Since the announcement that Tokyo's sushi legend had chosen to land in Asia's culinary capital, thousands of booking enquiries have been received through various channels. Due to the overwhelming response, priority reservations for the next six months are now exclusively available to regular guests of GLOBAL LINK restaurants (Tenku RyuGin, Ta Vie and La Bombance) and Four Seasons Hotel Hong Kong.
Chef Takashi Saito's vision is to restore the authenticity of Edomae-style sushi as it was hundreds of years ago. Paying respect to this long-standing tradition, everything is simple, focused on the precision of fish ageing, rice cooking and the amount of vinegar, soy sauce and wasabi applied to different kinds of ingredients.
At Tsukiji Market, the best of the best fish always goes to Sushi Saito. Chef Saito insists on selecting the best catch himself every day as he strongly believes in the importance of a thorough understanding of every single ingredient being served to guests. For his Hong Kong restaurant, "Saito's Selection" will be flown to the city on the same day it is chosen at which point it will go through a highly-intricate ageing process to enhance the umami and texture.
To ensure that Tokyo-level quality is maintained throughout the process, the Hong Kong offshoot will be helmed by the 29-year-old chef Ikuya Kobayashi, who has been working closely with chef Saito for more than eight years as his second-in-command at Sushi Saito Tokyo.
Sushi Saito is well-known for its cozy, relaxed and friendly ambience, allowing like-minded food lovers to share enjoyment and a passion for sushi. The atmosphere in Hong Kong is further uplifted by the carefully curated art pieces and tableware created by legendary Japanese artists such as Kitaōji Rosanjin, Shiro Tsujimura and Kai Tsujimura. An elegant sushi counter and interior furniture made with premium Japanese cypress selected from a forest in Nagano create a zen-like sensation while the slightly narrower counter design facilitates smoother seamless between chef and diners.(SD News)