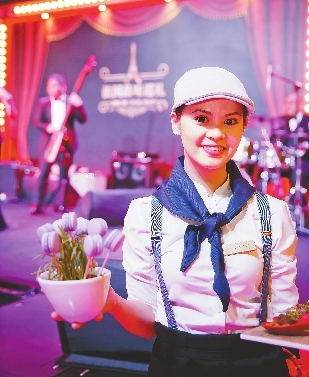 THE inaugural French-themed Joie De Vivre Festival, a celebration of French food, wine and entertainment taking place at The Parisian Macao Eiffel Tower's Observation Deck until June 30, has kicked off with an exciting opening night.
A vibrant, al fresco dining festival for afternoon tea, happy hour and dinner right under the Eiffel Tower, Joie De Vivre Festival allows visitors to enjoy a crafted selection of cuisine and world-class entertainment while taking in the spectacular views of the Cotai Strip.
Joie de vivre means "joy of living." The festival is being held alongside another celebration of French cuisine and wine that takes place in Macao and Hong Kong, Le French GourMay. As part of the dual-city event, The Parisian Macao's Brasserie and Le Buffet restaurants are presenting authentic tastes of southern France, focusing on the region of Provence-Alpes-Cote d'Azur throughout May.
To complete the Parisian picture, one of the world's most innovative variety shows, La Parisienne Cabaret Francais, is now in full swing at The Parisian Macao, featuring exciting acrobatics, comedy and glamorous dancers. Running at The Parisian Theater for a limited time until June 17, tickets are available at all Cotai Ticketing box offices or can be booked online at www.cotaiticketing.com.(Maggie Tang)