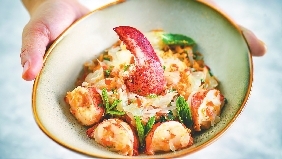 CATCH seafood restaurant at Four Seasons Hotel Guangzhou has launched an open concept dining experience, presenting Asian-inspired seafood cuisine and tempting desserts from store top to guests' table tops.
As the crown of Four Seasons Hotel Guangzhou located on the 100th floor, Catch is a spectacular seafood restaurant with a visible demonstration kitchen snug in the heart of the dining room, a non-stop class act for observant diners.
The new concept presents top seafood ingredients in their authentic states as well as fused with Asian flavors, offering customers the ultimate dining experience with a panoramic night view of Canton Tower and the Pearl River.
With an Asian take on seafood inspired by different culinary and dining cultures, Catch's new concept provides guests a wide selection of seafood cuisines.
Traditional dishes of Southeast Asian cooking like steamed blue mussels and clams with roasted chili jam as well as poached lobster paired with shredded pomelo and crisp shallots are the chef's top recommendations.
At Catch, they select fresh Canadian lobster and imported blue mussels and use Thai spices to make the dishes the authentic way. Innovative dishes can also be found in the starters section, such as watermelon and crispy fish salad, which uses watermelon as the main ingredient and marinates it in Thai-flavored sauces.
A variety of dining cultures in Asia can be found among main course selections.
Malaysian-inspired steamed cod fillet with salted red chili, Malay-spiced curry and coconut, renowned Singapore chili lobster, and Indonesian Bali-style grilled snapper are from different areas and widely welcomed by diners from all over the world.
Desserts are the most delightful indulgences on the menu. Inspired by traditional Asian palate and European-style exquisite presentation and design, French executive pastry chef Franck Istel shows his creativity in fusion.
"I select fresh fruits and ingredients from Asian countries such as yuzu from Japan, litchi from China and the Cantonese dessert mango pudding. I then use the European style to decorate and present dishes, which makes the dessert more attractive and pretty," Istel said.
Must-try items are yuzu raspberry crème brulee with litchi granite and Hong Kong-style mango pudding with coconut crumble, pistachio sponge and coconut lime sorbet.
(SD News)