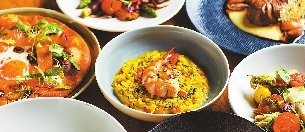 LA Terrazza, a trattoria-style Italian restaurant at the Grand Hyatt Shenzhen, is introducing its new menu featuring dishes that come in medium portions sizes that foodies can share with family and friends, augmenting the authenticity of the Italian cuisine and beautiful dining experience.
To cater the Chinese family-style dining tradition in which dishes are shared communally, the restaurant replaces large plates with smaller ones serving exquisite dishes, so that guests can try and share more dishes.
The head chef's homage to his native Italian-style family gatherings is evident in the new menu. He gave a lot of serious thought to plate presentation, using colorful plates to go with the dishes.
The most recommended main course is Italian-style salmon pizza, which is made in a specialty oven, endowing the crust with a crispy outer layer and spongy insides. The preserved salmon with a poached egg makes the pizza even more delicious. With the egg white on the pizza and dressings including lemon ricotta cheese and mozzarella, the pizza is both a treat for the eyes and the taste buds. Guests can choose small or large-sized portions and share with family and friends.
Guests who want to venture beyond the pizza that Italian cuisine is usually associated with may choose other dishes, including Italian-style herb-roasted chicken and panzanella, to liven up their meal time.
Delicious food should be served with a variety of wine and sparkling wine imported from Italy, which will arouse guests' tastes buds and take them on a culinary journey to Italy.
The new menu is available from 6:00 to 11:00 p.m. every Monday to Friday and 11:00 a.m. to 11:00 p.m. on weekends.
Located on the ground floor amid the world's top luxury boutiques, La Terrazza is a fashionable trattoria featuring a rustic wood-fired brick oven, serving authentic Italian antipasti and signature dishes, as well as an impressive selection of Italian wines.
(Yang Mei)