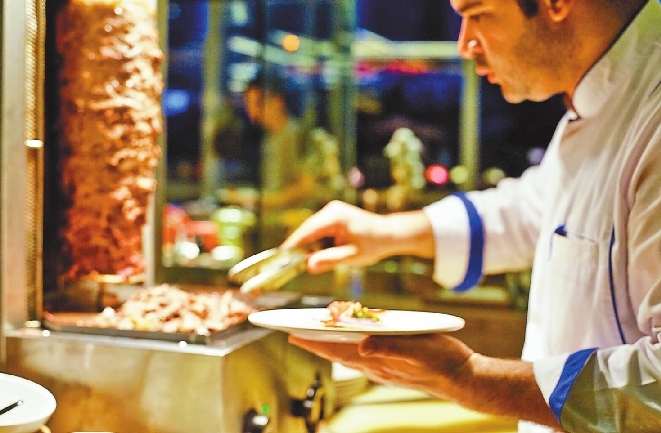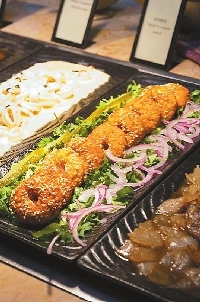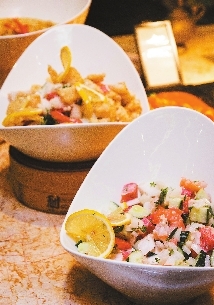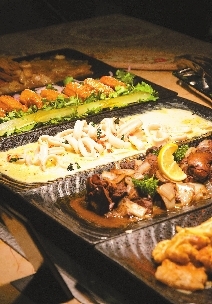 NOW through May 22, Hilton Shenzhen Futian is hosting an Arabian food festival. Named "Aladdin's Lamp of 1,001 Nights," the event will lead diners to a sumptuous Arabian feast featuring shawarma barbecue, as well as a mysterious Arabian culture.
Arabian cuisine shares many similarities with Western food, but the cooking methods are quite different.
The sauce used for dipping shawarma into is made of a yogurt base, lemon juice and garnished with dry garlic. It gives a sour and salty effect.
Meat plays an important role in Arabian food culture. Shawarma barbecue makes use of lamb, chicken, turkey, beef, veal or mixed meats, which are placed on a vertical spit and grilled for as long as a day before shavings are cut off the block of meat for serving.
Shawarma is best eaten surrounded by good company as a large group of people are needed to sit around and finish a whole spit together. Come and become an explorer, discovering the mystery of Arabian cuisine.
Besides the food, guests can also appreciate Arabic music and dance and enticing views of the city's CBD area.
Order now from the hotel's official WeChat shop and enjoy a special lunch offer at 178 yuan (US$26) per person or a special dinner offer at 278 yuan per person.(Tang Li)