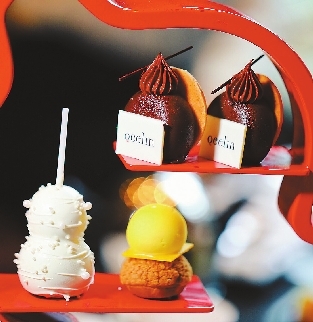 AT The Ritz-Carlton, Guangzhou, Chinese traditional craftworks and modern arts filled with oriental sentiment are skillfully interspersed throughout the European interior, creating a vibrant atmosphere coinciding with the international jewelry Qeelin's "East meets West" philosophy.
In celebration of the opening of the first Qeelin shop in Guangzhou, the hotel cooperates with the brand to present an exquisite jewel-inspired afternoon tea at Pearl Lounge.
Created by award-winning designer Dennis Chan, the Qeelin brand is famed for inspiration and emotional resonance from Chinese symbolism, as well as excellence in craftsmanship. Delivering a beguiling combination of poise, playfulness, imaginative whimsy and enchanting oriental beauty, Qeelin has been coveted among stars and luminaries all over the world.
The hotel's executive pastry chef Calvin Sia drew inspiration from Qeelin jewelry to elaborately craft an afternoon tea combining Chinese and Western elements. The gourd-shaped tea set stand pays homage to the jeweler's signature Wulu collection, which is modeled after an iconic Chinese symbol of blessing and positive energy.
The eye-catching chocolate hazelnut cake in white jade also inherits its creative identity from the Wulu collection. It is essentially a crispy hazelnut fritter inside a French Valrhona chocolate cake that results in a dense taste and a decadent and robust in texture.
Summer breeze features the synchronized flavors of passion fruit and white chocolate cream infused with special Sichuan pepper. An adorable panda from the Qeelin classic Bo Bo collection add sparks to the presentation, apart from standing in as a symbol of peace and friendship.
Deep-fried soft-shell crab sandwiches, wrapped into layers and topped with kumquat mayonnaise, is refreshingly rich and salty. Salmon salad, cured with Asian spices, is served with a rice crust. The most traditional Asian ingredients, seaweed, offers a lingering aftertaste of the ocean.
The forever-popular scones, dotted with berry raisins, are indulgent with their silky smoothness and Chantilly cream made with Mascarpone cheese or in-season strawberry jam.
The Qeelin afternoon tea set is available now through June 30.(Tang Li)