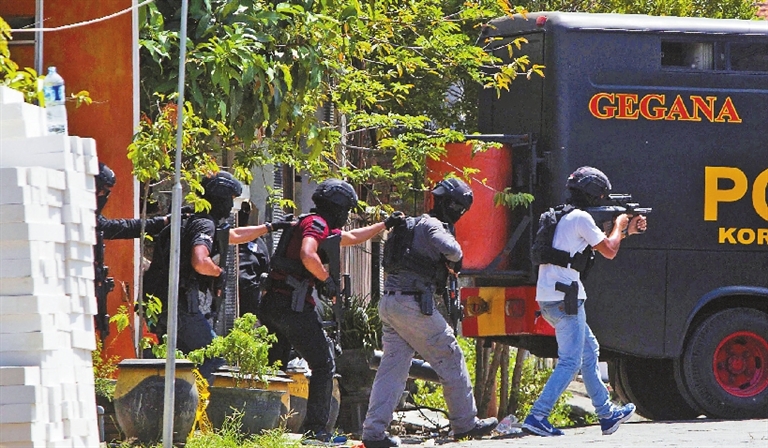 AN Indonesian family brought its 7-year-old daughter to a suicide bomb attack it launched Monday on the police headquarters in the country's second-largest city, authorities said, a day after members of another family conducted coordinated suicide bombings on three city churches that killed 12 people.
National police chief Tito Karnavian said the girl, who was with two of the attackers on a motorcycle, survived being thrown by the blast at Surabaya's police headquarters. The attack killed the four perpetrators. Six civilians and four officers were wounded. The attack came just hours after police said the family that carried out the church bombings included girls aged 8 and 12.
The flurry of bombings raised concerns that previously beaten-down militant networks in the country have been reinvigorated by the return of some of the estimated 1,100 Indonesians who went to fight with the Islamic State group in Syria. Experts have warned for several years that when those fighters return, they could pose a significant threat.
IS claimed responsibility for the church bombings in a statement carried by its Aamaq news agency.
Tito said the church bombers and the police headquarters attackers were friends, as were another family whose homemade bombs exploded in their apartment Sunday night.
All told, 25 people have died since Sunday including a total of 13 militants and their children.
Indonesian President Joko "Jokowi" Widodo condemned the attacks as "barbaric" and vowed that authorities would root out and destroy Islamic militant networks.  (SD-Agencies)