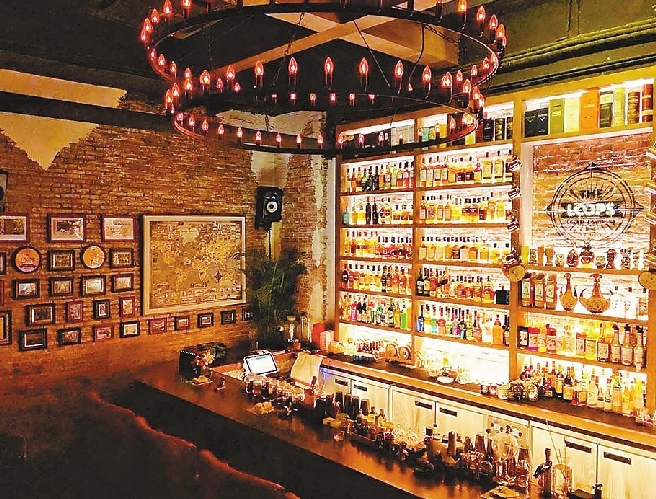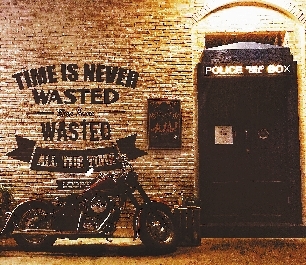 Nan Nan
there_sun@163.com
THERE is a cocktail bar hidden behind a phone booth in Chegongmiao. Like the time machine Tardis in "Doctor Who," when you walk through the faux booth, a journey into the 1920's starts.
During the Prohibition from 1920 to 1933 in the United States, bars were not allowed to sell wine openly. Therefore, these secret bars pretended to be barbershops, drugstores or other types of retailers to sell banned wine, and people who wanted a drink had to enter the bar by signaling passcodes or seeing through tricks.
In the spirit of this era, designer Lok and bartender Jerry built the bar in a speakeasy style. Named "The Loops," the speakeasy aims to always keep the primary principle of craftsmanship close in mind: doing one thing everyday continuously.
With an extra-high ceiling, the bar has both a cigar room fitting for people who prefer to drink alone while listening to music as well as a wide area at the end of the bar where friends can meet face to face. In the interlacing of the 20th and 21st centuries, having a glass of good wine and feeling the story behind it will surely bring you a doubly memorable experience.
Among all the cocktails available here, the Manhattan and the Dry Martini are among the most popular. The Moonlight Treasure Box is their specialty and comes with a box of six vials that can be shared with friends.
If you like sticking to the classics, choosing a well-known cocktail from the menu is a good start. If you are looking for something new, bartender Jerry will never let you down.
Apart from the collision of flavors in his special cocktails that are customized for each guest, Jerry gives a special "happiness potion" (a specially adjusted cocktail) everyday for the purpose of helping people let go of their troubles while drinking.