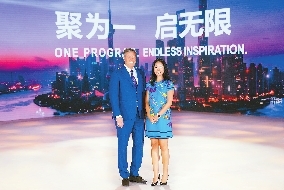 MARRIOTT International has announced that it will introduce a new set of unified benefits across Marriott Rewards under The Ritz-Carlton Rewards and Starwood Preferred Guest (SPG) programs. The programs start in August and will create an incredibly rich hospitality loyalty program in which members will earn more points faster than under the prior programs — on average 20 percent more points for every dollar spent.
For the first time, members will have the power to book stays and earn or redeem points in 29 participating global brands comprising 6,500 hotels in 127 countries and regions.
Additionally, the Moments experiential platform has expanded to more than 110,000 experiences in 1,000 destinations from must-see attraction tickets and tours for purchase by cash for all guests, to once-in-a-lifetime events only available to members using points, including the new bespoke Moments Live event series.
Beginning in August, members will be able to combine their separate Marriott Rewards, the Ritz-Carlton Rewards and SPG accounts into a single account spanning the entire loyalty portfolio.
The Marriott Rewards, The Ritz-Carlton Rewards and Starwood Preferred Guest names will continue to live on under the new set of unified benefits until a new program name is introduced in 2019.
Also beginning in August, travelers will have the ability to book stays across the entire portfolio for the first time on Marriott.com, SPG.com and the Marriott and SPG apps, or by contacting customer engagement centers.
"In August, members will be able to earn and redeem across the entire portfolio of participating hotels and earn elevated benefits and elite status faster with new elite tiers," said Peggy Fang Roe, chief sales and marketing officer for Marriott International in Asia Pacific.
"For example, earning Silver elite status after just 10 nights and Gold elite status after just 25 nights will become standard in all three programs."
With Platinum elite status earned after 50 nights and Platinum Premier elite status earned after 75 nights, these tiers will become easier to attain for Marriott Rewards and The Ritz-Carlton Rewards members and align with SPG's current offering, she said.
(Yang Mei)