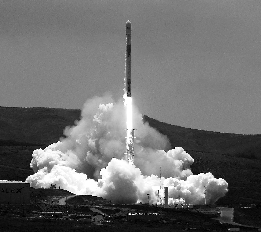 A SPACEX Falcon 9 rocket successfully launched a pair of U.S.-German science satellites and five commercial communications satellites into orbit from California on Tuesday.
Its upper stage deployed the research satellites minutes after reaching orbit. The satellites for Iridium Communications' next-generation fleet were released in a process completed a little more than an hour after liftoff.
The Falcon 9's first stage was previously used for a launch from Florida in January.
The science payload from NASA and the German Center for Geosciences included two identical satellites for the agencies' Gravity Recovery and Climate Experiment-Follow On mission, continuing the work of two predecessor spacecraft that spanned 15 years ending last October.
Called GRACE-FO, for short, the mission will detect the movement of Earth's water masses and changes in mass within the planet by measuring variations in gravity through tiny fluctuations in the distance between the two satellites as they orbit 220 kilometers apart.
"GRACE was really a revolutionary mission for us understanding the water cycle and how the climate behaves and the trends, which are taking place over the last 10 or 15 years," Frank Webb, GRACE-FO project scientist, told a pre-launch press conference. (SD-Agencies)