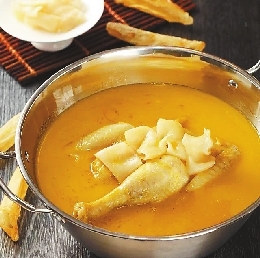 WHEN speaking of hotpot restaurants, you may think of a busy venue decorated in red hues, hasty waitresses walking around with aprons on their waists and the whole slew of often-seen Chinese cultural symbols all in one place. However, at Ruyifang Seafood restaurant, a Hong Kong-style hotpot eatery, none of these clichéd elements are visible to the eye.
Walking into Ruyifang, which is located near Honey Lake in Futian District, the only notion that will come to mind will be of a fancy Western-style restaurant, perhaps serving French dishes with the color white dominating the interior, red wine glasses on the tables and waitresses in suits.
Unlike Sichuan-style hotpot that excites foodies' taste buds, the light-flavored Hong Kong-style hotpot is highly nutritious and healthy with the most select of fresh foods used to make the soup base.
The matsutake soup base is a must-try. It uses matsutake grown in the Shangri-La region of Yunnan Province. It takes at least eight hours to decoct the matsutake soup, after which the matsutake is tender and the soup richer. Other signature soup bases include free range chicken with fish maw, Macao chicken feet with pork bone, oxtail soup with tomatoes and richly flavored fish soup.
The restaurant selects the finest food materials such as beef short ribs and abalone imported from Australia, red hairy crab from Russia, geoduck clams from the United States and Canada, and leopard coral grouper fish.
The ingredients' best flavors only come out when served with the best condiments. The restaurant offers chili oil, fried minced garlic, coriander, self-made XO sauce and premium soy sauce from Hong Kong.
For a group of three to five people, eating in the spacious public dining section would be pleasant. A larger group can choose private rooms, which are named after Hong Kong's landmarks.
While you enjoy the dishes, the professionally-trained waitress will stand by and serve you throughout the experience.
(Yang Mei)