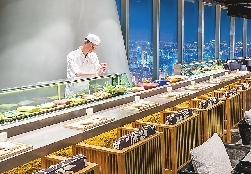 JAPANESE restaurant Kumoi at Four Seasons Hotel Guangzhou has created a seven-course menu based on selections of fresh and premium bluefin tuna imported from Kochi. The feast was kicked off with a fish-cutting show last week.
Tuna has been famous for ages for its softness and sweetness, and bluefin tuna is named one of the most premium tunas in the world.
Gourmets are familiar with toro sashimi for its creamy texture; however, tuna's familiar and comforting attributes don't come without effort.
Different parts of the fish need to be presented in different styles to enhance the taste.
The akami is the leanest part of tuna, to be featured in tuna tataki salad to bring out its sweet undertones. The middle of the fish is the medium-fatty part, and teppanyaki-style preparation can tenderize the fish and preserve its flavor to the fullest degree. The belly is best consumed as tuna nigiri or sushi.(Tang Li)