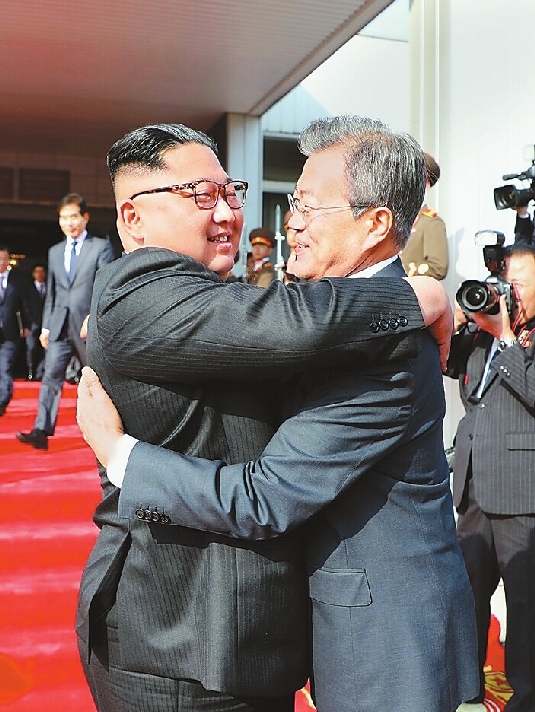 SOUTH KOREAN President Moon Jae-in said yesterday that both the top leader of the Democratic People's Republic of Korea (DPRK) Kim Jong Un and U.S. President Donald Trump wished the success of their summit, originally scheduled for June 12 in Singapore, "wholeheartedly."
Moon made the comments in his nationally televised speech after holding a surprise summit with Kim on Saturday at the border village of Panmunjom and a summit with Trump in Washington earlier this week.
During Saturday's summit, the two leaders exchanged opinions on implementing the April 27 Panmunjom Declaration, and on how to have a successful DPRK-U.S. summit, according to the Blue House.
The DPRK's official Korean Central News Agency said Kim expressed his "fixed will" to hold the DPRK-U.S. summit when meeting with Moon on Saturday.
Kim also promised to further push forward the peace process on the Korean Peninsula by working for the goal of denuclearization and improving inter-Korean ties.
Moon and Kim met on the South Korean side of Panmunjom on April 27, agreeing to complete the denuclearization of the Korean Peninsula and the change of the current armistice agreement into a peace treaty.
The second meeting between Moon and Kim was held on the DPRK side of Panmunjom at the request of Kim, Moon said yesterday.
Pyongyang suspended the high-level talks with South Korea on May 16 in view of recent provocative acts such as the joint military exercises between the United States and South Korea.
As for the U.S. side, President Donald Trump on Saturday said that he is looking at the Singapore summit with Kim Jong Un on June 12.
"We're looking at June 12 in Singapore. It hasn't changed," Trump told reporters at the White House, adding that talks over the meeting were progressing well.
"We're doing very well in terms of the summit. It's moving along very nicely," he said.
There is "a lot of goodwill," the White House host said.
Trump canceled the scheduled meeting Thursday, saying that it will not happen "based on the tremendous anger and open hostility" displayed in the DPRK's most recent statements.
However, he reversed course just one day after the announcement. Both sides wanted the meeting to happen and it could still go ahead after productive talks, he said.
A White House spokeswoman said Saturday that a White House team will leave for Singapore as scheduled this weekend to prepare for the Trump-Kim talks.
(Xinhua)