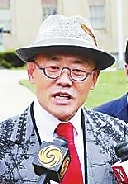 A NEW YORK state judge ruled Monday that Chinese comedian Zhou Libo was exonerated of weapon and drug charges.
Teresa K. Corrigan, acting Supreme Court justice, announced the decision at the Nassau County Court in the U.S. state of New York.
Zhou, together with his wife and lawyers, appeared at the hearing session Monday. Zhou was charged with illegal possession of a handgun, possession of a controlled substance identified as crystal methamphetamine and driving while using a mobile phone.
The court dismissed the weapon and drug charges. Meanwhile, Zhou pleaded guilty to the traffic violation charge.
Stephen Scaring, the defendant's lawyer, said after the hearing that they were satisfied with the ruling and would not file further appeals.
On Jan. 19, 2017, Zhou was stopped by police in the town of Lattingtown, New York, for his abnormal driving behavior. The police later found a black pistol holster, a pistol and a loaded magazine, and two transparent plastic bags containing drugs in his vehicle.
Zhou is a Chinese talk show host and comedian.
(Xinhua)