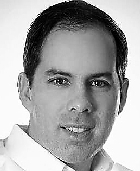 THE Mexican congressional candidate had just left a debate hall where he addressed public security in his northern state. He walks over to a person holding a phone and poses for a picture. In a matter of seconds, a man walks up from behind and shoots him in the head, killing him before walking off.
The death Friday night of Coahuila state's Fernando Puron brought to 112 the number of candidates or politicians killed since the launch of Mexico's electoral campaign in September, according to the consulting group Etellekt. Puron was the first candidate running on the federal level to be killed.
Puron's Institutional Revolutionary Party (PRI) confirmed his death, which was recorded on black and white surveillance camera footage that soon circulated on social media. While not clear enough to show the killer's face, the video brought into focus the dangers Mexican candidates face ahead of the July 1 election. Thousands of posts, including the presidency, are up for grabs.
"The Institutional Revolutionary Party condemns the attack suffered by our candidate Fernando Puron in the city of Piedras Negras," a PRI statement said. "We demand some clarity from the authorities on what happened and an appropriate punishment for those responsible for his death."
Police have made no arrests in the case.
In its latest report on political violence in Mexico, which includes all registered deaths from September 2017 to June 9, Etellekt includes geographical and party affiliation data on the politicians and candidates who were killed.
At least 39 of the victims were from Puron's PRI party.
Puron, a former mayor of Piedras Negras, had been asked during the Friday debate how he would improve public security in the state of Coahuila if elected.
"We have to face crime head on. We cannot be afraid," Puron said.(SD-Agencies)