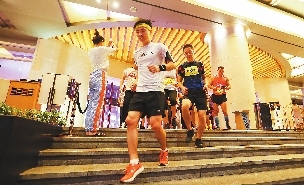 TOGETHER with more than 225 Westin hotels worldwide, the Westin Shenzhen Nanshan held an exciting competition June 6 themed "I Challenge You" in collaboration with Attitude CrossFit, a strengthening and conditioning gym that incorporates functional exercise, proven diet regimens, and a supporting community.
To celebrate Global Running Day, which falls on June 7, the event includes a CrossFit workout session and a 3-kilometer night run.
Dedicated to guaranteeing the well-being of guests, associates and the community, the Westin Shenzhen Nanshan is holding the event in an effort to get more people to experience the joys of healthy movement from a unique vantage point.
The Westin Hotels & Resorts also announced June 6 that it is partnering with Charity Miles, a socially-driven company that allows individuals to earn money for their preferred charity while working out, empowering people to make a difference while staying active. (Nan Nan)