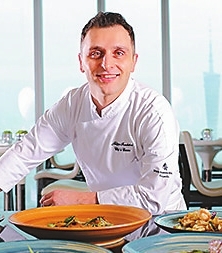 THE Italian-inspired restaurant Caffe Mondo at Four Seasons Hotel Guangzhou launches a new menu this summer, featuring premium seasonal ingredients in dishes served up with authentic Italian flavor.
"Similar to Cantonese cuisine culture, Italian cuisine also relies strongly on seasonal products, and emphasizes a healthy lifestyle," said chef Filippo Fondatori.
He brings regional delicacies from his hometown Tuscany, including La Toscana Platter, which uses high-quality Cinta Senese ham and pecorino Toscano DOP cheese, and is one of the country's signature dishes. Roasted veal loin, also known as vitello tonnato, is a typical Italian starter; it pairs a premium loin with tuna sauce, making for a light taste appropriate for the summer season.
Caffe Mondo's new menu has widened the selection of main courses. Farm chicken and New Zealand lamb loin are highly recommended by the chef.
Located on the 72nd floor, Caffe Mondo features what could possibly be the world's highest brick-lined pizza oven for making homestyle pizza, and it also presents a variety of kinds of pasta as well as pasta di Gragnano, which is one of the best dried pastas from Italy.
In the new menu, the linguini with Hokkaido scallops and basil pesto is extremely fresh and tasty as a seasonal cuisine. Raviolo aperoto is also recommended. With a scent of mushrooms, the flavor is aromatic and brisk. The dish is enjoyable for vegetarians.
The selections of traditional Acquarello risotto are also added into the new menu. The risotto with botan shrimp and soppressata salami is delicate and delicious. The mixture of creamy burrata cheese, sweet shrimp, savory salami and refreshing calamansi makes the risotto tasty.
Dessert is an important component in Italian cuisine. Millefoglie and lampone are the highlights of the new dessert collection. Executive pastry chef Franck Istel has created a shape of raspberry to present the lampone, filled with raspberry jelly, which makes the whole experience a tempting and delightful indulgence for those with a sweet tooth.(Tang Li)