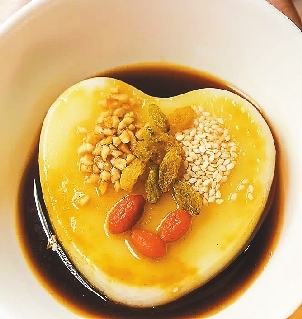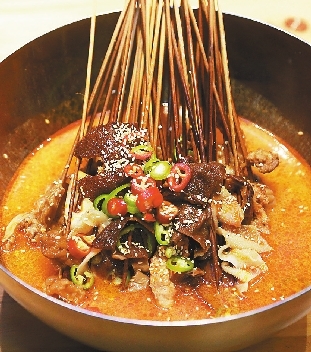 Chen Xiaochun
654789759@qq.com
RECENTLY, Yangshaoye Chengdu Chuanchuan Xiang, a restaurant selling cold pot chuanchuan (boiled skewers), officially opened in Luohu District. The restaurant is conveniently located only a stone's throw away from the Hubei Metro Station.
Chuanchuan, vegetables and meat skewers served in spicy broth, is a version of hot pot that is more popular than typical hot pot in Sichuan. Sliced raw meat, vegetables, sausages, shrimps, in fact almost anything edible, are impaled on a bamboo skewer and dipped into a pan of boiling hot spicy soup. It's called chuanchuan because the food is put on a bamboo stick.
There is hot chuanchuan and cold chuanchuan. In hot chuanchuan, the cooking is done yourself as during a typical hot pot meal. However, for cold chuanchuan, chefs will cook the food you choose and the pot you use is cold.
Hardy, one of the co-founders of the restaurant, introduced that they founded the restaurant because of a simple childhood dream: to run a restaurant with good friends.
"Yang," one of the Chinese characters in the restaurant name, means "sunshine," which symbolizes positive energy, while "shaoye" means young master because all the three founders are male. The restaurant aims not only at providing the best-quality mouth-watering Sichuan delicacies to customers, but also creating a positive culture.
The chef of the restaurant, who enjoys a working history of 15 years, prepares eight specialties and nine recommended cold pot chuanchuan. Among the specialties you can find spicy beef, fried crispy pork meat, glutinous rice cake with brown sugar, and meat dumplings in spicy sauce. Among the recommended chuanchuan are crispy beef tripe and fresh fish maw.