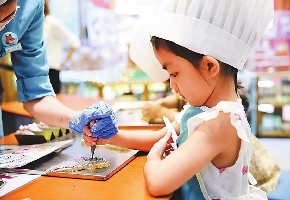 SUMMER holiday is just around the corner, and the Ritz-Carlton, Guangzhou has thoughtfully appointed a family-oriented stay adventure filled with exciting amenities and art-inspiring activities during this coming summer vocation.
Together with Harry's Kitchen, the hotel presents the Celestial Summer Holidays accommodation package to create a journey of memories that even the little one will treasure for a lifetime.
From arrival, junior guests are able to enjoy a glimpse of adulthood. They can check in on their own at a newly designed child-sized counter, a permanent feature in the hotel.
Colorful candies and drawing books are available in the room for their enjoyment. Bath time for Ritz Kids is set to make a splash with specially picked children toiletries including children shampoo, body wash and lotion. The hotel also provides mini bathrobes and slippers for the young guests.
The stay comes with an in-room camping adventure for families who book the Executive City View Suite, complete with a tent, compass, lantern, flashlight, drinking bottle and cuddly lion. The new Star Gaze enhances the sense of starry night in the outdoors accompanied by a night time treat of milk and cookies.
The entire hotel stay experience is child-centric and brimming with family bonding. A five minutes' walk from the hotel, Harry's Kitchen adds fun to the family time with a phenomenal interactive learning experience that gives children the opportunity to develop a life-long love for the culinary arts.
Children dress like a chef in light blue apron and chef's hat, and ignite their creativity and transform it onto the freshly baked cookies collaboratively with their family members.
Priced from 1,338 yuan (US$205), guests will be enjoying one-night accommodation in a spacious Deluxe City View Room, buffet breakfasts for two adults and one child under 6 years old, specially crafted welcome amenities for the junior guests, specially selected kids toiletries, baking class for one adult and one child above 3 years old at Harry's Kitchen, and access to outdoor swimming pool and fitness center.
Family guests who book the Ritz Kids Night Safari package, priced from 2,580 yuan, include one-night accommodations in the 100-square-meter luxurious Executive Suite City View Room and camping amenities (a tent, compass, lantern, flashlight, drinking bottle and cuddly lion).
(Tang Li)