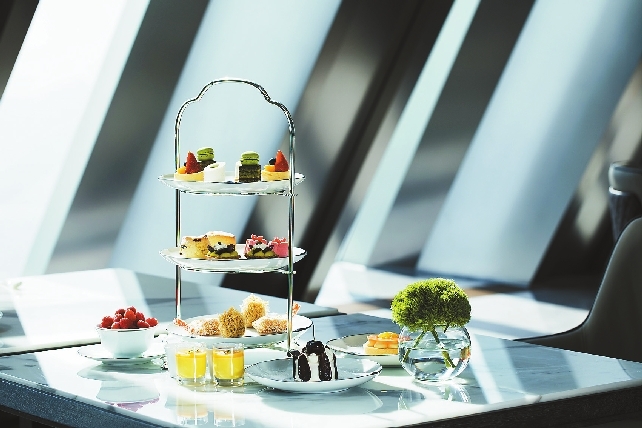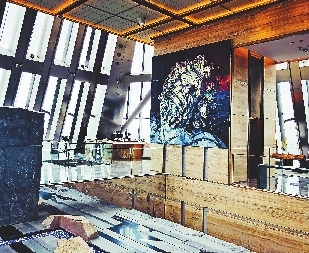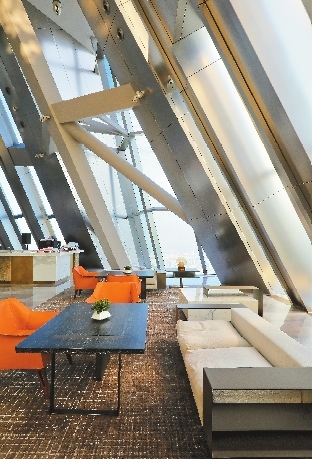 OCCUPYING the 117th and 118th floors of the landmark Ping An International Finance Center, Altitudes is currently the highest-altitude restaurant in Shenzhen. Offering a lunch buffet, afternoon tea and a rich collection of wines, whiskies and cocktails, the restaurant guarantees a unique culinary experience.
To reach the restaurant in the sky, take the skyscraper's elevator to the 115th floor, and then transfer to another independent elevator to reach Altitudes. Greeting you with an unobstructed, 360-degree view of the city, the restaurant adds more to your culinary experience with its artistic interior design.
Divided into several spaces, the restaurant creates an artistic environment by combining different elements of stone, flower and light. What's most eye-catching is a painting by celebrated Chinese contemporary artist Zeng Fanzhi. Named "Laocoon," the painting is four meters in both length and width.
The artistic installation spanning both floors and a rock garden micro-landscape of Zen concept captivates the gaze of visitors. With stones symbolizing the mountain and white sand symbolizing the lake and sea, the micro-landscape lends to a tranquil atmosphere.
The restaurant houses five independent and impressive VIP rooms, all adorned with modern and exquisite decorations. The dark wood furniture gives the VIP rooms an elegant touch.
The lunch buffet offered by the restaurant puts together an impressive menu that includes imported seafood and quality steaks such as Boston lobster, Alaskan king crab and New Zealand lamb cutlets. It provides an array of Pan-Asia flavor delicacies and Western cuisine. In a relaxing atmosphere, the live demonstration of the culinary skill of the chef brings another joyful experience to the diner.
For afternoon tea, customers can enjoy a selection of desserts including freshly-baked English scones and different types of sweet or salty refreshments. For a gathering with best friends or spending a relaxing afternoon alone, the afternoon tea here offers a nice choice as a retreat in the bustling city.
The live jazz performances at nightfall, over 60 types of whiskies from around the world, more than 30 types of wine from renowned French chateaus and different types of cocktails makes the restaurant your ideal place for banquets and social gatherings.
Stimulating for both the eyes and palate, Altitudes gives guests a truly memorable experience.
(Chen Xiaochun)