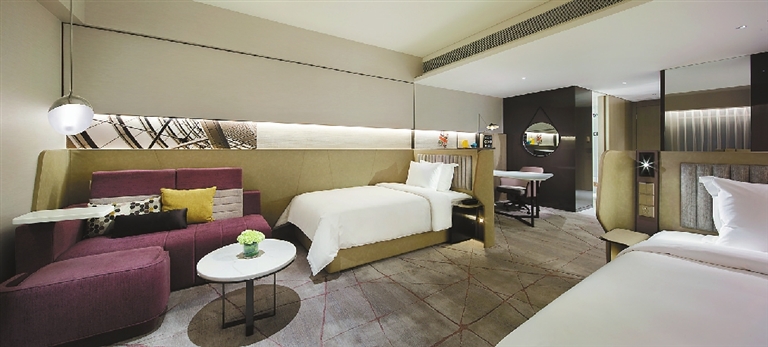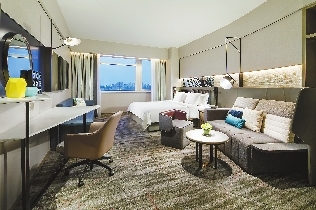 CROWNE Plaza Hotels & Resorts recently released the mockup room of the new "WorkLife" design, the first batch since the brand unveiled the concept last year. The completion of this room takes the Crowne Plaza one step closer to the global renewal plan called the "new age of Crowne Plaza," which promotes work-life balance for business travelers.
The new "WorkLife" room is designed in a new modern style, which is implemented through three layers: professional base, restoring contrast and inspiring dynamic. Each layer represents an experience and is designed to respond to different needs of the modern business traveler during their stay.
The new "WorkLife" room is equipped with a USB interface installed in the leisure, work and sleep area so guests have access to plug-points no matter where they are in the room. Multiple work spaces now provide guests with both standing and sitting modes to work from. The nook moves around and enables the guests to switch between leisure and work. The premium twin bedroom features two sets of work spaces for the guests, which is convenient for two people to work at the same time.
Catering to business travelers who travel in pairs, the new WorkLife room provides a separate room for the washbasin, shower and toilet. Also, the new design boasts double sets of luggage stands and provides open wardrobes, to uplift the efficiency of two guests.
Modern business travelers pay utmost attention to relaxation, re-energizing and privacy during their business trips. With that in mind, there are separate bed zones and cocooning headboards designed to further strengthen the sense of privacy and improve their sleep quality.
"The first batch of hotels with the 'WorkLife' design is expected to open next year," according to Wang Lin, vice president of marketing of IHG China. "Crowne Plaza will introduce the refreshed design of the hotel meeting space and the new concept of the hotel service in the near future, to completely kick off the new age of Crowne Plaza."
(SD News)