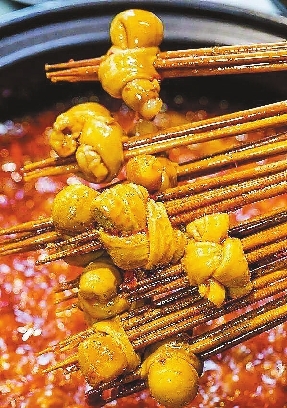 Chen Xiaochun
654789759@qq.com
SHOWERED with tons of positive comments online, the popular Chengdu restaurant "Gangguanchang Wuqu Xiaojungan Chuanchuan Xiang" in Longhua District waits upon long queues of customers every day. Even rainy days can't deter patrons.
The restaurant, whose name literally translates to "Steel Pipe Plant Fifth District Little Chicken Gizzard Skewer," recently celebrated its first anniversary. It is the first branch of this brand in Shenzhen.
Chuanchuan is a kind of Sichuan spicy hot snack eaten from a bamboo stick. The founder of the brand, Sister Gu, is a Chongqing native who has a good understanding of the Sichuan and Chongqing cuisines, according to a source from the branch restaurant.
Gu is a retired worker from the Chengdu Seamless Steel Pipe Factory. She set up a stall selling chuanchuan, which quickly became popular. Later, supported by the chairman of Chengdu Bazi Hot Pot, she blended the flavor of Sichuan cuisine with Chongqing cuisine, giving birth to the restaurant's unique-tasting chuanchuan today.
The most famous specialty of the brand, chicken gizzard skewer made with a secret recipe, has successfully won the hearts of most foodies. The seven combinations of beef with different food including bamboo shoot, celery and fragrant-flowered garlic also make everyone's mouth water.
As in other chuanchuan restaurants, one's skewers of raw ingredients are first chosen from large fridges at the front of the restaurant. Popular choices include quail eggs, shrimp dumplings, tofu and an assortment of different local mushrooms. Once you've made your selection, bring your tray of skewers to your table to cook them in a spicy hot pot. You can also choose a non-spicy soup base if preferred.
While you're waiting for your food, choose a dipping sauce to accompany your skewers when they are cooked: a dry sauce of ground peanuts, chili powder and cilantro is excellent with the steaming chuanchuan bites.