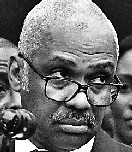 HAITIAN Prime Minister Jack Guy Lafontant resigned Saturday as he faced a non-confidence vote after a move to lower fuel subsidies prompted days of violent protests in the impoverished Caribbean nation.
Lafontant told Haiti's Chamber of Deputies that he sent President Jovenel Moise his resignation letter. Moise confirmed via Twitter that he had accepted Lafontant's resignation along with those of other Cabinet members.
The prime minister's abrupt resignation came ahead of a vote on a motion to censure Lafontant, a first step toward asking that Moise name a new prime minister to form a Cabinet to handle the crisis. The prime minister is the second-highest official in Haiti after the president.
Lafontant was to answer questions about the July 6-8 riots that followed the government's attempt to raise fuel prices by up to 51 percent as part of an agreement with the International Monetary Fund. At least seven people were killed during the unrest.
Instead, Lafontant used the opportunity to announce his resignation, while in various parts of Haiti small protests were held demanding the head of state step down.(SD-Agencies)