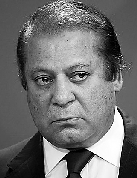 PAKISTANI authorities have opened a criminal investigation into leaders of jailed former Prime Minister Nawaz Sharif's political party under an anti-terrorism law, 10 days before a hotly contested general election, according to police documents.
The case relates to a march staged by the Pakistan Muslim League-Nawaz (PML-N) on July 13, when Sharif returned to Pakistan, which defied a ban on holding public rallies on a Friday. The former premier was arrested minutes after landing in the country after being sentenced in absentia by an anti-corruption court July 6.
Copies of two separate First Information Reports (FIR), which mark the formal opening of a criminal investigation, named PML-N leader Shehbaz Sharif, who is Nawaz Sharif's brother, and a number of other key figures. They include former Prime Minister Shahid Khaqan Abbasi, who replaced Sharif last year and served until June.
Meanwhile, Sharif challenged his conviction and sought suspension of the guilty verdict, local reports said yesterday.
Sharif was accused of having wealth beyond his income. However, the charges were denied by the three-time prime minister as politically-motivated. He was also sentenced to one year in prison for "not cooperating" with the National Accountability Bureau (NAB), Pakistan's anti-graft body.
Sharif's lawyers filed the petition, which sought acquittal of Nawaz Sharif and dropping all charges against him.(SD-Xinhua)