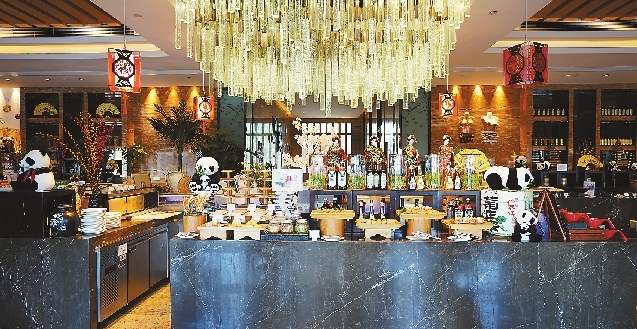 UNTIL Aug. 15, gourmets are invited to the luxury Wyndham Grand Shenzhen to challenge themselves to the Tomahawk Steak Competition. The three contestants who eat the biggest share of steak within 30 minutes each evening can enjoy a complimentary buffet dinner. The final champion will be treated with a room coupon for a one night's stay at the hotel.
That said, there is plenty else on offer for those who wish to enjoy something other than steak.
A large area of the buffet is dedicated to seafood, including New Zealand oysters, snow crab legs, sea yellow snails, monkey shrimp and tiger crabs, among shellfish classics. There is also a sushi station, where the chef prepares fresh cuts of salmon, tuna, sea bream, and creatively crafted sushi items too.
An open kitchen section offers a Teppanyaki grill, where diners can order whatever they wish. There are roasted oysters with garlic, pomfrets and mutton kebabs. The must-have dish, however, is the New Zealand lamb chops.
For those who love Chinese dishes, they can try Chongqing-style fish stew with chili, Sichuan-style beef stew, braised pork knuckles with soy sauce, and Cantonese-style fried squid.
Eye-catching desserts are crafted into creative shapes in vibrant colors. The blueberry mouse is presented like a white popsicle on a stick and raspberry mouse is in the cute shape of a heart. Diners at the buffet are also treated to one complimentary glass of wine.
Time: 6:00-9:30 p.m.
Price: 268 yuan for Monday to Thursday, 318 yuan between Friday and Sunday (with 10-percent service charge and 6-percent VAT)
Venue: Grand Kitchen, Wyndham Grand Hotel
Address: 3rd Floor, Wyndham Grand Hotel, 2009 Caitian Road, Futian, Shenzhen (深圳市福田区彩田路2009号深圳温德姆至尊酒店三层)
Tel: (0755)8299-8888 ext. 8560
(Debra Li)