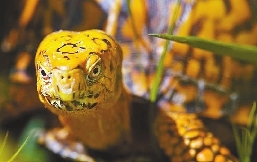 TWO flight attendants for a Chinese airline were fined and ordered to leave the United States within 72 hours Monday for attempting to smuggle dozens of spotted and box turtles in carry-on bags from Los Angeles to China.
U.S. District Judge S. James Otero ordered Chinese nationals Huaqian Qu, 41, and Renfeng Gao, 31, to pay US$5,500 each to the U.S. Fish and Wildlife Service before returning to China within three days.
They were also sentenced to three years of probation.
The two China Eastern Airlines attendants pleaded guilty last month to a federal conspiracy charge, which carries a possible penalty of up to five years behind bars, said the U.S. Attorney's Office.
Qu and Gao were arrested at Los Angeles International Airport on May 12 after special agent Juan Ramirez Amezcua found a total of 31 live spotted turtles and 14 live box turtles in both attendants' luggage, according to an affidavit filed in the case.
The two attendants were flagged for inspection after a Transportation Security Administration inspector detected "unusual round objects" in their bags while conducting an X-ray luggage check, the document shows.  (SD-Agencies)