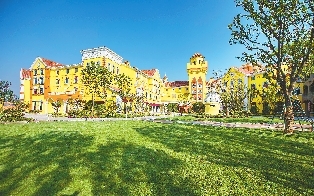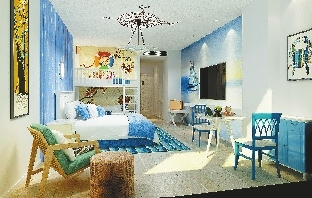 OCT Hotels announced the opening of its third Gleetour hotel, Gleetour Shanghai, this summer, aimed at providing guests with a joyful and wonderful experience in China's trendiest seaboard city.
Gleetour Shanghai is situated within the Shanghai Sheshan National Tourist Resort, about 15 kilometers away from Shanghai Hongqiao International Airport and Shanghai Hongqiao Railway Station.
Gleetour Shanghai is opposite of Shanghai Happy Valley across the river and surrounded by popular man-made wonders, such as Playa Maya Water Park, Chenshan Botanical Garden and Moon Lake Sculpture Park, making it a good place for exploration around the resort.
This hotel is designed with historical Spanish themes and cultural concepts, ensuring guests' comfort for every stay while also creating a rich cultural experience. The world-famous Casa Batllo and Park Guell designed by wizard architect Gaudii are also reproduced in the hotel for guests' experience.
Gleetour Shanghai features 293 guest rooms and suites. With lovely swallows and elk motifs on the walls, nautical charts printed in carpeted corridors, pictures of Spanish girls in red dresses in public areas, and the combination of surreal paintings and classic chandeliers in guest rooms, the hotel brings guests to a world of believable fantasy.
Spanish elements are also applied to food and beverage at the hotel at Numancia Restaurant, where featured dishes and desserts of Spain can be found.
Additionally, popular Southeast Asian dishes are prepared for guests' enjoyment. A 3-D restaurant can also be found in the hotel as well.
Family travel is a priority at Gleetour Shanghai. The hotel offers guests with fabulous family vacations, in terms of facilities and services.
Featuring popular Happy Valley cartoon icons, the family rooms and suites are full of fun for children.
Family-friendly interactive activities are also held regularly in the spacious lawn and children's playground, including family football games, culture learning classes, pottery making classes, etc., stimulating the eager of learning of children at different ages.(Tang Li)