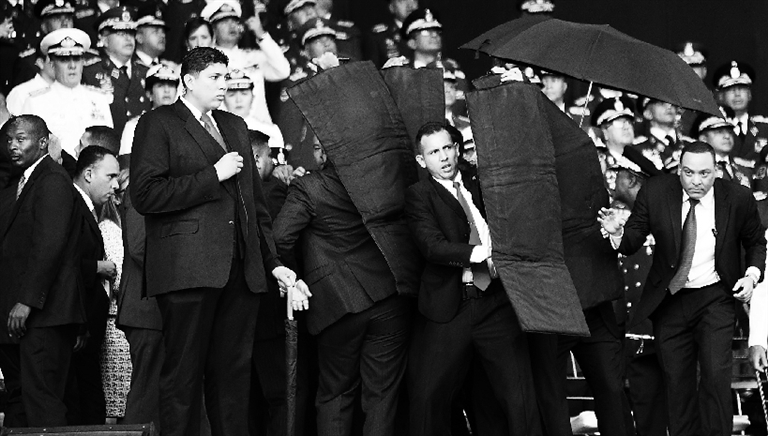 SEVEN national guards have been injured in Venezuela after an apparent assassination attempt on President Nicolas Maduro on Saturday using an explosive-laden drone as he addressed the nation on live TV.
Footage broadcast by state television shows Maduro abruptly cutting short his speech before looking to the sky. Thousands of soldiers who were assembled in massed ranks then scatter as people scream amid the sounds of explosions.
His wife, Cilia Flores, was standing next to him at the time, and can be seen ducking away as officials erect a shield wall around the president. Images showed a bloodied soldier being carried away and smoking holes in nearby buildings.
Maduro accused neighboring Colombia and unidentified "financiers' in the United States of being responsible for the attack, while some of his officials blamed Venezuela's opposition. Maduro was mid-speech at an event to commemorate the 81st anniversary of the Bolivarian National Guard when a 'flying device" exploded right in front of him at 5:40 p.m., according to a televised account he gave after the event.
"To the conscious Venezuela, we are going to bet for the good of our country, the hour of the economic recovery has come and we need..." Maduro was saying before he suddenly stopped talking.
Within seconds, there was a second explosion and pandemonium ensued, with guards carrying bullet-proof shields rushing the premier and his wife off the stage.
Uniformed members of the country's National Guard lined up in the parade then suddenly broke ranks and began scattering in all directions to the sounds of microphones dropping at the state TV channel before the camera cut away.
A photograph later showed an injured military official clutching his bloody head as he was carried away by colleagues.
"It was an attack to kill me, they tried to assassinate me today," Maduro said in the later broadcast, as he said a number of suspects had already been arrested.
Colombia denied any involvement, while a senior Colombian official speaking on condition of anonymity said Maduro's accusation was "baseless."
Venezuela's government routinely accuses opposition activists of plotting to attack and overthrow Maduro, a deeply unpopular leader who was recently elected to a new term in office in a vote decried by dozens of nations.
Maduro has steadily moved to concentrate power as the nation reels from a crippling economic crisis.
In the midst of near-daily protests last year, a rogue police officer flew a stolen helicopter over the capital and launched grenades at several government buildings. Oscar Perez was later killed in a deadly gun battle after over six months on the lam.(SD-Agencies)