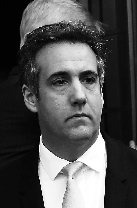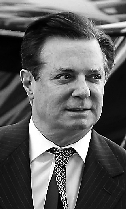 DONALD TRUMP has suffered a huge double blow after one of his former associates pleaded guilty and another was convicted of financial crimes, potentially leaving the U.S. president himself in legal jeopardy.
Michael Cohen, his longtime lawyer and "fixer," pleaded guilty to eight charges including campaign finance violations and directly implicated Trump in paying "hush money" to women with whom he allegedly had affairs.
Just minutes earlier, Paul Manafort, the president's former campaign chairman, was convicted on eight charges of bank and tax fraud. The dual courtroom dramas set up a moment of rare peril for the president.
"This is the worst hour of Trump's entire presidency – no, make that entire life," tweeted Norman Eisen, a former special counsel to former President Barack Obama for ethics and government reform.
The outcomes also raised grave questions about Trump's judgment. Since his election, his national security adviser, personal lawyer, campaign chairman, deputy campaign manager and a foreign policy aide have all admitted or been convicted of crimes.
The cases arose from special counsel Robert Mueller's investigation into Russian interference in the 2016 presidential election. Tuesday's events represent a significant victory for Mueller, who has been under pressure from Trump's supporters to wind up what the president calls a "witch hunt."
In New York, Cohen claimed Trump directed him to make payments that violated campaign finance laws in an effort to stop Stormy Daniels, the pornographic film actor, and Karen McDougal, the former Playboy model, from going public about alleged extramarital affairs. In entering the plea, Cohen did not name the two women, nor Trump.
The disclosure was made as Cohen, once loyal to Trump, pleaded guilty to bank fraud, tax fraud and campaign finance violations in a deal reached with federal prosecutors. He could get about four to five years in prison at sentencing Dec. 12.
Meanwhile, in Alexandria, Virginia, after the fourth day of jury deliberation, Manafort was found guilty of bank fraud, tax fraud and failure to report a foreign bank account. The charges carry a maximum sentence of decades in prison. He avoided conviction on some charges, however, with the jury saying it could not reach a consensus on 10 out of 18 total counts.
Manafort faces additional charges in a separate case, to convene in Washington D.C. next month.
In Charleston, West Virginia, arriving for a rally Tuesday night, Trump told reporters: "This has nothing to do with Russian collusion. These are witch hunts and it's a disgrace."
Despite his conviction on federal charges, Trump called Manafort a "good man," adding: "He was with Ronald Reagan, he was with a lot of people."
Trump's attorney, Rudy Giuliani, claimed the government's charges against Cohen contained "no allegation of any wrongdoing against the president."
Democrats sought to pile political pressure on Trump after the news broke, with the party's leader in the House of Representatives, Nancy Pelosi, denouncing the "rampant corruption and criminality at the heart of Trump's inner circle."
She said: "Cohen's admission of paying hundreds of thousands of dollars in hush money 'at the direction of the candidate' to influence the 2016 election shows the president's claims of ignorance to be far from accurate, and places him in even greater legal jeopardy." (SD-Agencies)