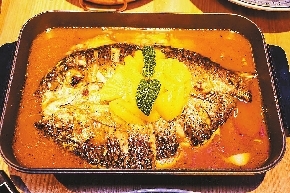 IMAGINE roast fish and fresh fruit in one mouthful. The magic of this unusual pair can be acquired at Yuku, the first restaurant in Shenzhen offering the fruit-roasted fish to adventurous consumers.
Currently, their special fruit roast fish series offers foodies two flavor options depending on their palette: sour-and-hot pineapple and spicy litchi.
The founder of Yuku believes that the taste of live fish, fresh and tender, far outweighs that of frozen stored fish. Therefore, he insists on providing roast fish bred in Heyuan, his hometown.
Heyuan is a city in Guangdong Province, and Yuku is now building their own fish farm there where the founder can satisfy both his mission to serve only fresh fish and his parents' wishes to live out their lives quietly as fishermen.
A major feature of the fruit-roasted fish is that the taste lacks a greasy film due to its infusion with fruit. For example, the pineapple-flavored dish uses the juice of two real pineapples, secret spices, and a little lemon juice as seasoning. All of the fruit's essence is absorbed by the fish meat while roasting.
When it comes to selecting one's fish, Qingjiang fish are recommended for customers who dislike encountering fish bones while chowing down. The restaurant also has various other types of fish on offer, including bamboo grass carp, Mekong fish and Heijiangtuan fish.
Every day, Yuku attracts droves of customers at its peak times during lunch hours and in the evening. Different from the somber interior favored by most restaurants specializing in roasting, Yuku adopts bright and warm colors. Vibrant green plants are cultivated in the restaurant to offer customers clean and enlivening experience.
Self-serve water is located next to the door. Elaborate IKEA-like bottles are neatly arranged with lemon slices placed beside them. An open kitchen makes it possible for customers to watch their meals materialize right before their eyes. The transparent and sanitary conditions provide mental relief enough for all.
A micro-USB cable can be found in each table's drawer that customers can use to charge their mobile phones. The cable is purposefully short in hopes that diners will opt to interact with friends face-to-face and focus on tasting the dishes before them rather than scrolling through their feeds.
Every evening from 6:30 p.m. to 9:00 p.m., crooners sing songs at the restaurant, providing eaters with a romantic atmosphere for enjoying their meals and chatting with friends.(A Ding)