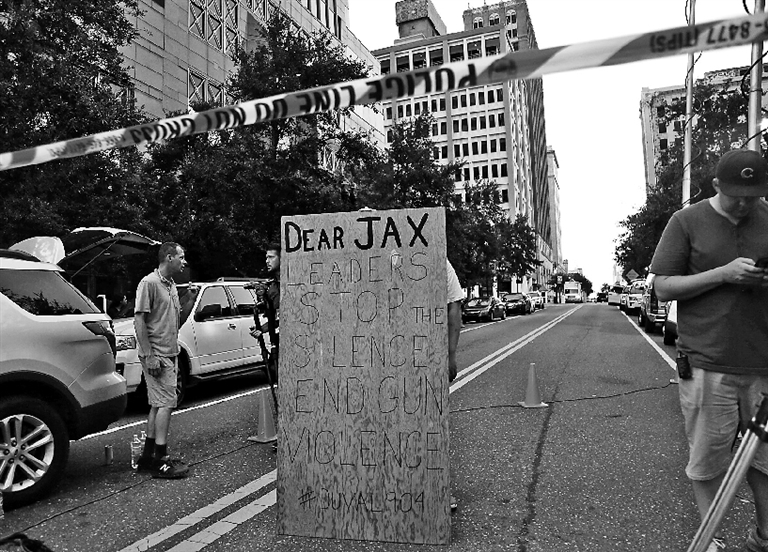 HEAVILY armed U.S. agents late Sunday entered the upscale Baltimore townhouse that belongs to the father of the gunman who opened fire during a Madden 19 NFL tournament at a restaurant in Jacksonville, Florida, killing two and injuring 11 before killing himself.
David Katz, 24, of Baltimore, was believed to have fired shots during the event at the Chicago Pizza restaurant and bar in The Jacksonville Landing, Sheriff Mike Williams said at a news conference. Williams did not speak about a possible motive.
An FBI spokesman, Dave Fitz, confirmed agents had gone to the upscale townhouse home. But he did not immediately release any other specifics, citing an ongoing investigation.
The agents could be seen inside the home Sunday evening near Baltimore's Inner Harbor. They wore bulletproof vests and carried long guns. Reporters who gathered outside did not see any authorities carrying any bags of evidence outside.
Katz has been described by witnesses and people who knew him as a gamer who erupted in anger after losing the event.
Katz died from a self-inflicted gunshot wound after he shot multiple people, police said. In addition to the dead, 11 other people were injured — nine of them with gunshot wounds.
Katz, whose vehicle was located and impounded by investigators, is believed to have stayed somewhere locally Saturday night before the shooting.
(SD-Agencies)