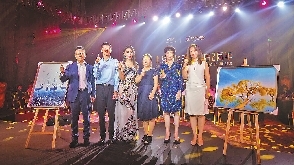 WANDA Reign on the Bund launched its second anniversary celebration with a sensational gala dinner featuring contemporary artworks and culinary art last week.
Roughly 200 guests from Wanda Reign on the Bund, Wanda Reign Chengdu and Wanda Reign Wuhan joined the celebration of this momentous occasion at Wanda Reign on the Bund, one of the best luxury hotels in Shanghai, which has hosted discerning travelers, celebrities, and heads of state from around the world over the past two years.
Guests were welcomed in the museum-like hotel lobby on the event day where the giant contemporary Chinese ink painting "Splendid Orient" was displayed alongside other art pieces.
As guests moved up to the main venue of this event, the oil painting artwork, "Night of Shanghai," another art piece in Wanda Reign on the Bund was enhanced by high-tech sound and lighting system, evolved into a brand new interactive art show.
This event created a luxury experience of contemporary art for all guests and it showcased that the Wanda Reign brand was built up with a characteristic that closely connected to the art.
The gala dinner started with the screening of a new Wanda Reign brand video, followed by an opening speech delivered by Dr. Jeff Ning, executive president of Wanda Cultural Tourism Creativity Co. and president of Wanda Hotels & Resorts.
Dr. Ning reviewed the development of Wanda Reign, the flagship brand of Wanda Hotels & Resorts, over the past four years and introduced the latest brand strategy of four existing brands -- Wanda Reign, Wanda Vista, Wanda Realm and Wanda Jin. He also announced two to-be-launched new brands: Wanda Moments and Wanda Allegroitalia.
"Wanda Hotels & Resorts owns three cores sections of hotel design, hotels construction and hotel management, and is a whole industrial chain company that integrates hotel development and management globally. The second anniversary of Wanda Reign on the Bund is a milestone for the development of Wanda Hotels & Resorts. In terms of global expansion, new projects will be under development in Istanbul, Langkawi and Vientiane in 2019," Ning said.
The five-course gala dinner was presented by the hotel's award-wining Huaiyang cuisine restaurant, River Drunk. It features the classic Huaiyang dishes that used to be served in formal State banquets, perfectly balanced in both taste and presentation. (SD News)