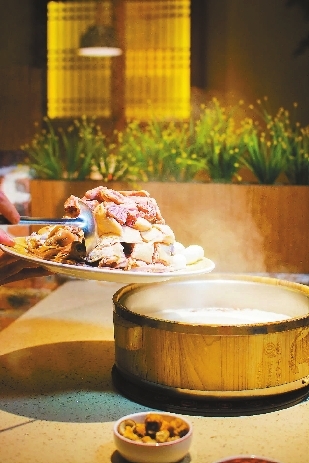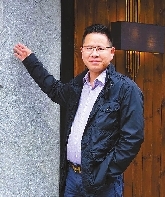 AS an old Chinese saying goes, "A watched flower never blooms, but an untended willow grows," which means "the best things come when you least expect them to." This saying is particularly true in the case of Mr. Xu, founder of Fuxinji, a decade-old chain restaurant brand serving pork tripe-wrapped chicken stew, who now owns 11 restaurants across Shenzhen.
A native to Fujian Province, Xu was a layman in the catering industry in his early years and built up his fortune by dealing wholesale dried seafood goods. In 2008 Xu wanted to try his hand at something different, and at that time pork tripe-wrapped chicken stew was very popular for its nutritional value. So he decided to try his luck in the business. Ever since, his restaurant has been growing and thriving.
Pork tripe-wrapped chicken stew, or pork belly chicken pot, is an essential soup traditionally eaten at the wedding banquet by the Hakka people of Guangdong Province, known for a rich aroma of herbs and white pepper.
Due to the soaring cost of food materials and manpower, Xu confessed that it's become more difficult to be in the food business.
"In 2009 when I started in the food business, there were only 20,000 restaurants in Shenzhen. Now the number has increased to 160,000."
In order to cater to the tastes of fastidious foodies, Xu keeps innovating his menu. For example, one of their signature dishes is called "sanshengsanshi pork bellys chicken pot." A chicken is wrapped in pork belly, but the chicken is also stuffed with pigeon, and the pigeon in turn is stuffed with quail eggs. The resulting highly nutritious multi-layer stew costs only 228 yuan (US$33.5).
When sharing the secrets to his success, Xu said concentrating on one certain style of dish was as important as serving a certain group of foodies. "A restaurant cannot satisfy the tastes of all the people. The light-flavored pork tripe-wrapped chicken stew is famous for its nutrition, so people who prefer Sichuan-style hotpot may not come to my restaurant," Xu said. "But I won't make spicy hotpot, which I'm not good at, to please more customers."
To guarantee the quality of all the food materials brought to his stores, Xu opened his own chicken farm and central kitchen to monitor the whole process.
Asked whether he will leave his restaurants to his children, Xu said he prefers to hire new talent to work alongside his heirs to ensure his company will go further. (Yang Mei)