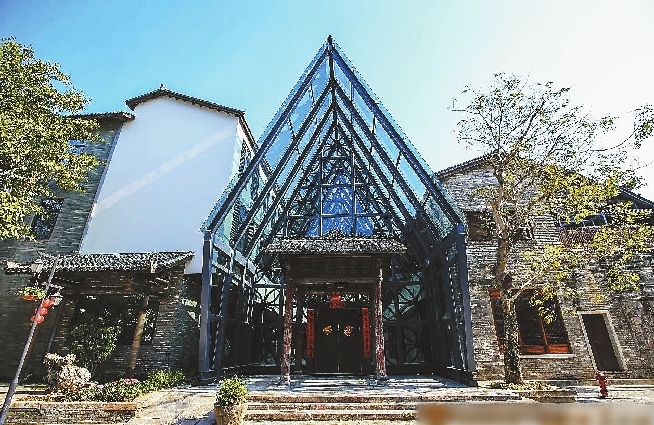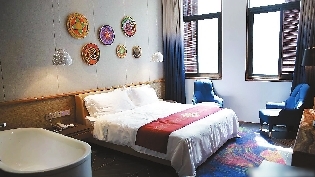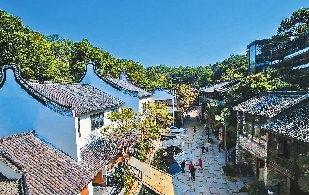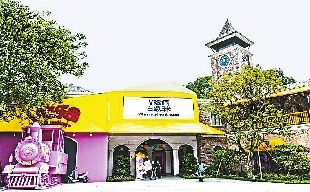 Nan Nan
there_sun@163.com
THOSE looking to plan a weekend trip as a couple or family can visit Gankeng Hakka Town, a place for experiencing traditional Hakka culture and natural landscapes, as three themed hotels in the town officially opened Sept. 29. Featuring Hakka culture, a perfect combination of the traditional and modern, and parent-child bonding, the hotels cater to people's diverse needs.
Gankeng Hakka Town is a small and ancient village that was once a gathering place of the Hakka people. Walking among traditional Hakka-style buildings with hundreds of years of history and between their ancient mottled walls may give you the illusion of traveling back in time.
Nanxianglou Art Hotel retains the architectural imprint of the past and perfectly combines modern and ancient designs. The main building of the hotel, Nanxianglou, is a Qing Dynasty building that was historically used as a library. The interior of the hotel features a simple yet sprightly modern style.
The exterior of the 52-room hotel is in blue and yellow. The interior is contemporary but features some traditional details that reference the Hakka culture, including brass tables, bamboo wardrobes, bamboo doorplates, bamboo weaving products and bamboo decorations in the hotel corridor as Hakka people depended on bamboo in their daily lives.
To the front of Nanxianglou is an art exhibition hall that holds exhibits of art creations by Hakka artists and others. An elegant, multi-functional conference hall with advanced equipment can accommodate more than 100 guests and is the perfect venue for small and medium-sized theme-based activities.
For those who want to experience traditional Hakka culture, Phoenix Hakka Hotel is the superb choice. The Hakka people like red as it is a symbol of celebration and of prosperity. Phoenix Hakka Hotel is designed with modern Hakka charms and decorated with red elements. Some rooms have a private outdoor garden for guest to spend a cool afternoon and evening in the summer.
Other rooms offer a unique stone tub and the Hakka wormwood bath. After years exploring and accumulating through the generations, Hakka people took wormwood baths using natural herbs from nearby mountains to maintain and enhance their health.
The hotel also has a four-floor restaurant where guests can enjoy authentic Hakka food, and a Hakka-style dragon-and-phoenix-themed hall is the ideal place for a wedding party. Guests can walk through the Phoenix Valley beside the hotel, seeking traces of ancestors and travelling through the picturesque mountains and forests.
Little Hakka Hotel is a parent-child resort themed after the cartoon series "Little Hakka." The hotel has brought to life a cartoon paradise for the children. The children's sky pool on the second floor is made of transparent tempered glass, offering a special visual effect. Thousands of children's picture books are available for reading, and the open-air cinema on the top of the hotel is a good place for quality time.
The 44-room hotel fuses Little Hakka cartoon elements into the hotel space and supplies. With children's toiletry, small toiletries, washstands, bathrobes, tatami beds and slide beds, the hotel creates a great space for interaction.
A farm outside the hotel designed to get children closer to nature and learn how food is grown, and V Valley Paradise is designed for people of all ages to experience popular VR games.