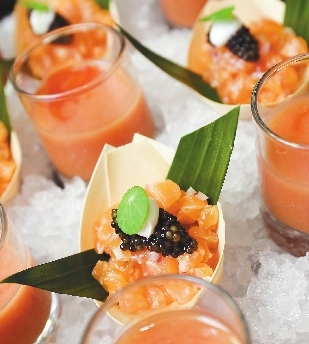 THE world of wellness is changing, and Four Seasons Hotel Hong Kong is leading the way with the launch of its Well Feeling initiative.
Recognizing that the travelers of today are increasingly mindful of their mental and physical wellbeing, the hotel is taking a new approach to the guest journey, offering wellness options that holistically integrate into all phases of a stay, helping guests to achieve a better tasting and more nutritious, physically stronger and mentally fit lifestyle.
Working with the respected nutritionist and functional medicine specialist Miles Price of the Life Clinic in Hong Kong, executive chef Andrea Accordi is helping guests to go beyond granola and rethink their definition of healthy food.
Guests can follow the green leaves on all restaurant menus to easily discover tasty new creations and old favorites, nutritionist approved. From roasted organic Welsh rack of lamb to authentic Thai blue prawn curry, hungry guests are spoiled for healthy choices.
For guests who wish to go deeper, detailed information on key vitamins, minerals and phytonutrients for each Well Feeling dish is also available. Well Feeling options can also be found in the hotel's Michelin-starred Lung King Heen and Caprice.
Guests can find peace of mind anytime with a variety of mindfulness practices. The Spa helps guests to meditate at their own pace using iPads loaded with meditation apps and noise cancelling headphones.
For those who would like to extend their mindfulness practice to a community setting, monthly Full Moon Meditations led by director of spa Shoshana Weinberg have become a popular gathering for likeminded wellness seekers. Those who wish can tap into the creative side of mindfulness with art therapy — adult coloring pages are available to enjoy throughout the spa or to take back to the room.
Guests at all phases of their personal wellness journeys will have the opportunity to explore new frontiers of wellbeing with the Masters of Wellness series, a selection of visiting experts practicing a range of specialties from reiki to yoga.
In addition to the world-class gym with panoramic harbor views and two full-sized outdoor pools open year round, the hotel helps guests to explore new fitness territories.
Every weekend by the pool, guests can explore the yin and yang balancing art of tai chi with Master Angela. For those seeking a higher-octane workout, Four Seasons has collaborated with local fitness experts Joint Dynamics to offer a new Circuit Training class. Guests looking to get outside can also join sporty Four Seasons staff for a morning run every Wednesday.(SD News)