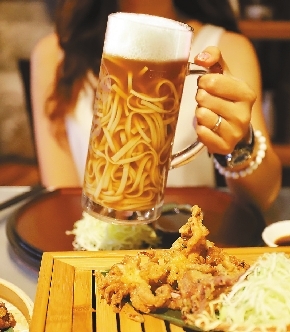 COME and try the new recommended "beer" noodles created by chef Kelly at Shizuku Japanese Restaurant at JW Marriott Hotel Shenzhen starting now.
A good afternoon starts with a large draft beer mug filled with delicious soup and stunning chilled udon, plus a Japanese style snack.
There are three types of noodles for you to choose from: "black beer," or chilled udon with cold soup, "ice beer," or green tea chilled noodles with cold soup, and "white beer," or ramen with hot or cold soup.
In addition, an assorted tempura platter, deep fried chicken with cucumber tata sauce, deep fried squid, deep fried fish sticks with vegetable sauce and Chikuzenni are really satisfying picks this season as the weather gets cooler and we're in the mood for something to warm us up.
A draft "beer" and a snack cost only 98 yuan (US$14.2). Enjoying this special "beer" set and share cheers with your friends!
Venue: Shizuku Japanese Restaurant, 2/F, JW Marriott Hotel Shenzhen
Time: 11:30 a.m.-2:30 p.m.
Reservation: (0755)2269-8250(SD News)