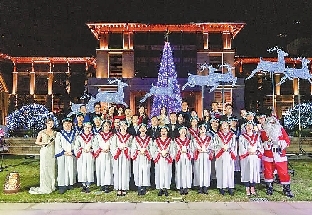 THE Christmas season kicked off Nov. 22 with a Christmas tree lighting inspired by music boxes and a gourmet festival featuring Italian and French delicacies at Shenzhen Marriot Hotel Golden Bay, bringing festive vibes to this picturesque resort.
Robert Young, general manager of Shenzhen Marriot Hotel Golden Bay, lit up a Christmas tree during the event. Santa was present with plenty of Christmas spirit, and a choir performed Christmas carols with holiday cheer.
Guests could grab warm beverages at the hotel's refreshment bar and feast on an exotic buffet served at the gourmet festival during the festive season until Dec. 31.
Guests will also enjoy an Italian and French food festival at the Golden Bay Kitchen all day dining restaurant until Dec. 23. Wellington steak, French cheese baked seafood and traditional Italian fried seafood were available.
The price of the buffet is 338 yuan (US$48.9) from Sunday to Thursday and 398 yuan from Friday to Saturday per adult. Children 1 meter to 1.4 meters in height will enjoy a 50-percent discount.
Shenzhen Marriot Hotel Golden Bay is set in the beachfront of Golden Bay, Dapeng New Area, one of the top domestic bays in China, offering 325 guests rooms and suites with panoramic views of the enchanting sea.
(Wang Haolan)