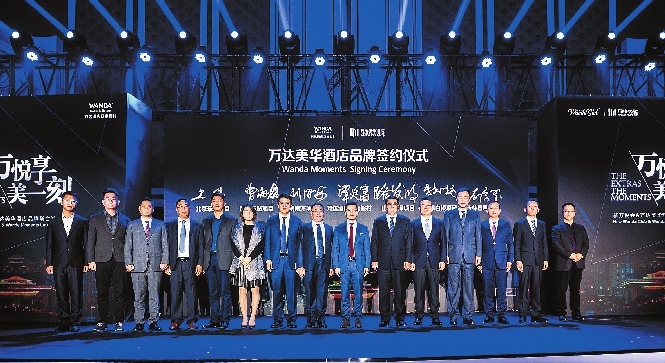 WANDA Hotels & Resorts has recently unveiled Wanda Moments, a premium mid-scale hotel brand, and announced a newly upgraded guest loyalty program. The company also announced a plan to develop 700 hotels in China in the next five years.
Wanda Moments is the fifth brand of Wanda Hotels & Resorts after Wanda Reign, Wanda Vista, Wanda Realm and Wanda Jin. The premium mid-scale hotel brand is committed to providing high-quality selected services to business travelers with unique tastes, life attitudes and experiences.
"The new brand will continue the diversity and inclusivity of Wanda hotel brands, and the artistic design, attentive services as well as interactive staying experience," said Dr. Ning Qifeng, executive president of Wanda Cultural Tourism Creativity Co. and president of Wanda Hotels & Resorts. "With the brand concept of "Better for Tomorrow" and the "4S" core values (Sweet, Social, Style, Smart), Wanda Moments aims to create a new lifestyle that integrates art, culture, intelligence and fashion."
At the launch ceremony, Wanda introduced its latest developmental strategy for its transformation toward asset-light development. The company also signed contracts with the first six Wanda Moments hotels' owners, marking the official beginning of the development of the new brand.
Wanda Hotels & Resorts attributes the brand's development to the support of their loyal customers and pays close attention to rewards programs. During the event, it officially announced the launch of the upgraded Wanda Club program, which was comprehensively enhanced in their points accumulation mechanism, membership system and points redemption system.
Founded in 1996, Wanda Hotels & Resorts endeavors to be recognized as one of the world's most valuable asset management companies with a core competency in hotel business.
As one of the only "one-stop solution" hotel companies in the world, it currently manages six brands in its portfolio: the ultra-luxury brand Wanda Reign, the luxury brand Wanda Vista, the premium brand Wanda Realm, the select-service brand Wanda Jin, the premium mid-scale brand Wanda Moments and the cooperative brand Wanda Allegroitalia. The company plans to manage more than 100 hotels distributed in over 80 cities nationwide by 2020.(Tang Li)