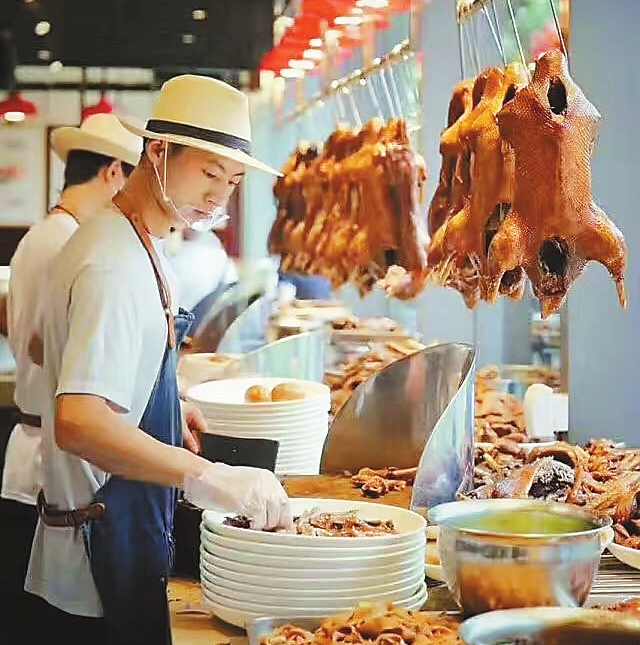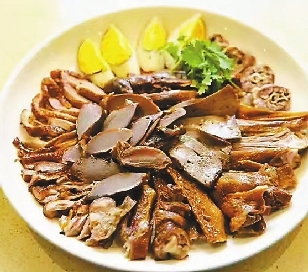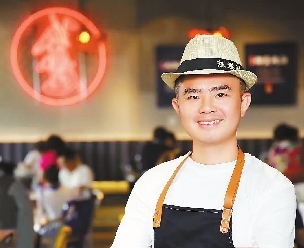 TEOCHEW-STYLE braised geese is a classic delicacy in Chaoshan cuisine that enjoys a long history, and now restaurant chain Chen Pengpeng Goose Restaurant is giving the traditional specialty a modern and creative twist, offering Shenzhen foodies a whole new dining experience.
Traditional family-owned braised goose places may often be seen in crowded, messy and sometimes insanitary conditions. By contrast, the Chen Pengpeng Goose Restaurant is decorated in a simple, vibrant yet laid back style. Through an open and large glass window, customers are able to observe chefs slice the marinated geese and then carefully arrange them on plates. Wearing casual straw hats, white T-shirts and blue jeans as well as blue aprons, the young waiters and waitresses are always energetic and attentive.
Founder of the restaurant chain Chen Pengpeng is dedicated to "reforming" braising techniques. A native of Fujian Province where people prefer lighter flavors, Chen believes that fresh ingredients hold the key to great food. "Traditional braising recipes are often salty, but nowadays people prefer light-flavored food," he said. As a result, he made the recipes simpler by inventing a creative soup with 12 kinds of herbs, which reawakens the freshness and sweetness of goose meat.
Apart from the braising techniques, Chen's restaurants always keep innovating the menu. Soups in coconuts with no water added are simmered for three hours, which are a perfect choice to balance the salty braised geese. Customers can also try the liquorice fruits, another specialty in Chaoshan cuisine, which is good for stimulating the appetite and digestion. The outlet in Bao'an International Airport offers breakfast and afternoon tea to suit the needs of travelers.
In Chen's eyes, ingredients are the soul of Cantonese cuisine. Therefore, he is very fastidious when it comes to the freshness of food materials. When the restaurant first opened, Chen promised from the outset to use the freshest materials that never stay overnight and to freshly re-roast the geese five times every day. To that end, Chen has a private geese breeding base in Shenzhen. The restaurant only chooses big geese weighing 7 kilograms or more and brings them from the farm to the restaurant twice every day. Since his braised geese are accompanied by sweet rice, Chen also built an organic rice production base covering an area of 33,333 square meters in Mudanjiang, Heilongjiang Province.
The restaurant chain has entered its third year, and Chen never stops his exploring the possibilities in braising geese to fulfill his ambitions to become the leader of this sector. "My restaurant was founded in Shenzhen, so it's got the innovative DNA. I hope one day my restaurant can become the pride of the city's catering industry," Chen said. (Yang Mei)