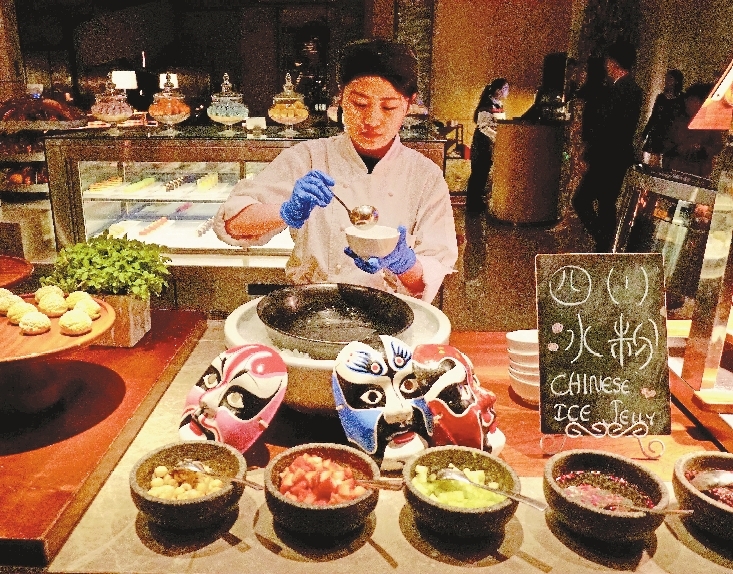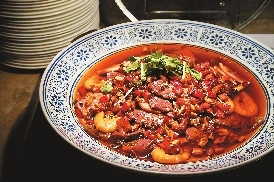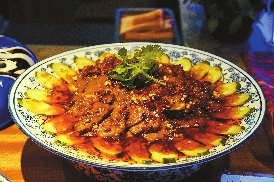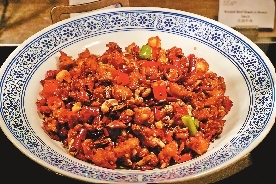 Wang Haolan
Holly_cn@163.com
WHILST sweating till your shirt's soaked amid a feast of spicy Sichuan cuisine, a panoramic view of the modern townscape and picturesque coastline from a cloud-capped tower would definitely bring you back down. It's an experience of ice and fire that can be obtained at the Sichuan Food Festival on the 43rd floor of Shenzhen Marriot Hotel Nanshan.
Through Thursday, an array of quintessential Sichuan dishes, including Chongqing spicy chicken, Sichuan-style boiled blood curd, braised frogs with chili sauce, sliced beef and ox tongue in chili sauce and the like are served on the sideline of the regular buffet in the hotel's Nanshan Kitchen, aiming to add more authentic spices of Chinese culinary traditions to the enticing selection of international options.
Even the most dedicated connoisseurs of Sichuan food will be left licking their fingers, as the dishes are elaborately prepared by guest chef Yang Fan invited from local Marriot Hotels in Sichuan and Chongqing.
Yang, the Sichuan cuisine chef of Chongqing Marriot Hotel, brings a specialty dish named "boiled tiger grouper in spicy sauce" to gourmets in Shenzhen.
The tiger grouper is a kind of fish well-known for its mild flavor and firm texture, which perfectly neutralizes the robust taste of boiling chili oil. The main chef recommendations are changed on a regular basis during the event period.
Specialties are also provided in the staple food and dessert departments, including Sichuan noodles and ice jelly with optional seasonings.
To add more fun to the food festival, children dining in the Nanshan kitchen during the event period will receive a panda doll for free, and on weekends, Sichuan mask-painting classes are organized for families to attend.
Dates: Until Thursday
Hours: 6:00 p.m.-9:30 p.m.
Address: No. 88 Haide Road 1, Nanshan District, Shenzhen (深圳市南山区海德一道88号)
Metro: Line 2 to Houhai Station (后海站), Exit E
Tel: 8436-8233