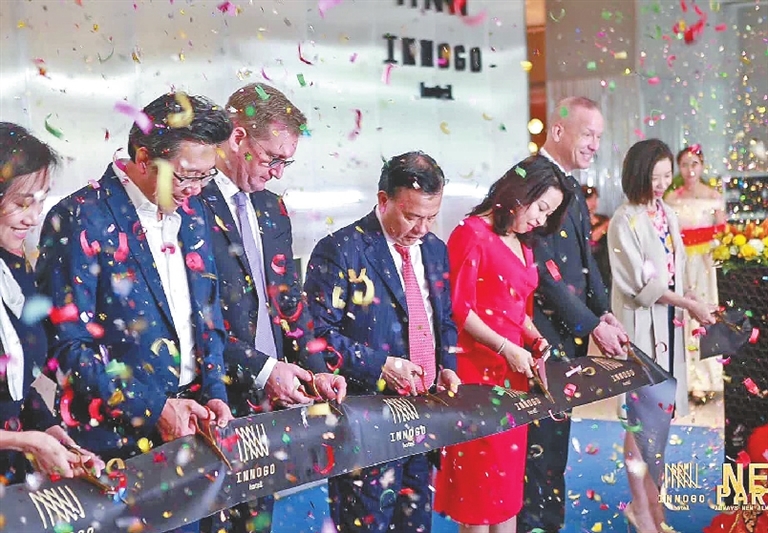 INNOGO Hotel has opened its doors in Luohu District, as a tribute to the 40th anniversary of the reform and opening up.
The hotel is the first property opened by GCIG International Hotel Management Ltd. Co. and is designed by a team of young artists from the Guangdong-Hong Kong-Macao Greater Bay Area.
Located in the heart of Luohu near The MixC shopping mall, KingGlory Plaza and Dongmen Pedestrian Street, the hotel offers business travelers great convenience with its proximity to Shenzhen Railway Station.
"We're very happy to open the first Innogo Hotel in Luohu," said Huang Wenxi, president of GCIG International Hotel Management Ltd.
"China's reform and opening up started in Shenzhen while Shenzhen's reform started in Luohu. We've actively responded to the construction of the Greater Bay Area by inviting youth artists, tech and financial talents as well as hoteliers to jointly build our brand to rejuvenate Luohu, diversify hotel services in Shenzhen and improve the service industry in the area."
The hotel comprises 94 guestrooms and each of them features Sinomax mattresses, ensuring guests a comfortable sleeping experience.
With a vision to build the hotel into one of the most high-end business hotels of the Greater Bay Area, Innogo carefully selects only items that are either made in the Greater Bay Area or embody the area's unique flavor.
The Inno Gallery on the second floor is the biggest highlight of the hotel. The gallery is designed by Muland Design Studio, a silver-award winner of London Design Awards.
Unlike traditional lobbies, the lobby of Innogo Hotel has no clear-cut sections by function; instead, the lobby is separated by the subtle art of chairs, couches, long tables and books arrangement. In this shared area, guests can chat, work and mingle over coffee.
At the other end of the hotel lobby stands the Inno Shop where guests can buy a variety of items ranging from art works, toiletries, fragrance and cups to souvenirs from the Greater Bay Area.
The hotel also extends its exquisite art to dishes. The Inno Deli on the first floor offers breakfast set menu featuring seasonal ingredients, which is considered a daring experiment and a first among hotels of the same level.
Founded in 2014, the GCIG International Hotel Management Ltd. Co., a branch company of GCIG International Group, is committed to providing investors with the most advanced, professional and comprehensive planning and counseling services regarding the investment in hospitality and tourism real estate industries. (Yang Mei)