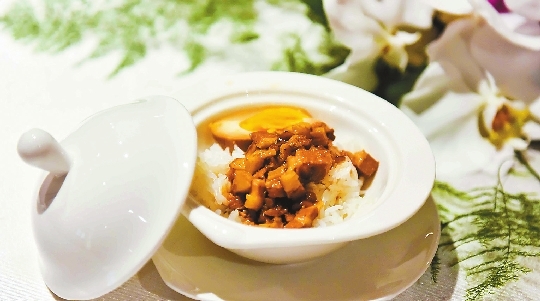 Yang Mei
yangmei_szdaily@163.com
FOR a very limited time only, foodies in Shenzhen can savor the most authentic Taiwanese food at Seasonal Tastes during the Taiwan Gastronomic Adventure event launched by the Westin Shenzhen Nanshan. The special Taiwan feature is presented by guest chef Mister Ho from W Taipei hotel.
Chef Ho and his team elaborately selected Taiwan cuisine for the menu of authentic Taiwanese delicacies served daily, buffet-style at Seasonal Tastes for dinner starting from now till May 12.
Traditional Taiwanese dishes include Puli Shaohsing wine drunken prawns, crispy prawns with Alishan wasabi mayo, chicken with sesame oil, soy sauce and rice wine, and braised minced pork rice.
No food can better define the culture of Taiwanese cuisine than the street food seen in the buzzing night market. At Seasonal Tastes, foodies can have a bite of salt-and-pepper-fried chicken and oyster pancake. To end the island culinary journey, Chef Ho presents brown sugar bubble milk tea and Formosa pineapple cake, the hotel's signature desserts.
Seasonal Tastes will provide you with a wonderful night with an exquisite dinner featuring essence of Taiwan Gastronomic Adventure, an event intended to maximize enjoyment and delight your taste buds.