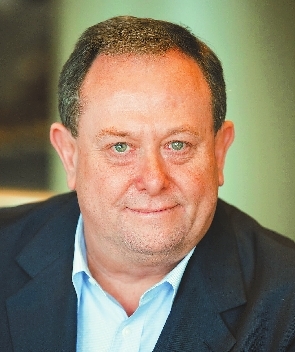 Wang Haolan
Holly_cn@163.com
WITH the sentence "take me to the Hilton" having circulated for a century across the world, the American flagship hospitality brand is ready to embrace its 100th birthday this year.
According to John Burger, the area general manager of Hilton Shenzhen Hotels, the centenarian, as the first international hotel to open properties in China, has formed unbreakable bonds with its team members and the local communities, making itself one of the most recognized names in the industry.
The hotel enjoys a high reputation for its exceptional workplace culture, and diversity has long been underlined in its team-building portfolio, which focuses greatly on cultivating and supporting female leaders both in work and life.
"We selected 11 female staffers, who were all willing to work as general managers in the future, from across China through the 'Women in Leadership' program and sent them to study in overseas properties to gain different perspectives on the industry. Also, with women accounting for 38 percent of its management workforce at Hilton Shenzhen Shekou Nanhai (Hilton Shekou), we were apt to keep them working in the same cities with their families so that mothers won't be separated from their children," said Burger.
Physically-challenged people can also embark on a decent career in Hilton properties. Hao Jinquan, a deaf-mute laundry staff with Hilton Shekou, was among the 12 winners of the Hilton CEO Warmth and Light Award in 2016 throughout the world.
Burger told the Shenzhen Daily that it was Hao's story that made him believe that handicapped people can also find their places in high-end hotels, and currently the Shekou property has employed eight disabled staffers with hearing or amputation issues.
"The essence of the hospitality industry lies in serving people, so only when we take good care of our staff members our guests can be looked after well," summarized Burger.
Having spent most of his time in Hilton Shekou with the picturesque costal view of Shenzhen Bay, Burger felt obliged to protect the marine environment of the local community.
The property recycled all of its leftover soaps to reduce raw sewage disposal at the sea and initiated a plogging event among the internal staff, during which they pick up plastic scraps as they jog along the coastline of Shekou every Friday morning.
"The plogging event has proved to be a worthwhile cause for the local community, for the surrounding environment of the Shekou property has greatly improved. Therefore, we choose to promote the event out of Shenzhen, like at the seaside resort in Huizhou, to mark the 100th anniversary of Hilton in a special way," said Burger.
While being asked how to conclude and envision the now and beyond 200 years of Hilton, Burger used the adjective "pioneering" as a key word.
"As the first hospitality company embracing its 100-years milestone in the world, Hilton has been a pioneer in the industry, initiating a collection of ideas and amenities such as airport hotels, room services and loyalty programs. In the next 100 years, we will continue to carry out pioneering causes in response to the rapid development of technology and booming tourism industry," he said.
Since its first opening in China in 1988, Hilton has witnessed the flourishing of Chinese tourism market and gained an accolade for having 177 opened and 394 pre-opening properties.
As a part of Hilton's "Travel with Purpose" campaign and its 100th anniversary celebration, a plogging event will be held at Double Tree by Hilton Huidong Resort on May 18 and 19.