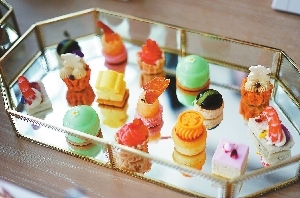 Doria Nan
there_sun@163.com
DESSERT lovers can experience the exquisite and stylish Tous-themed afternoon tea sets at six Marriott hotels in Southern China until July 5.
Spanish luxury jewelry brand Tous, which was founded in 1920, is popular among the Spanish royal family and celebrities. Its iconic bear and unique style and craftsmanship bring gentleness, happiness and vigor to all who encounter Tous, which has opened more than 620 stores in 50 countries.
In the afternoon tea sets, Tous' modern style is combined with the vitality and innovation that Marriott Hotel always brings to the table in all its offerings, providing an interesting and unique experience for taste buds.
Inspired by the Tous bear and perfume, Shenzhen Marriott Hotel Nanshan is offering the Touch & Taste afternoon tea set at the lobby lounge on its 43rd floor. The Williams pear milk chocolate mousse is shaped into the form of the Tous bear, made edible by the sweet taste of the Williams pear. The green apple mint mousse and orange flavor scone convey the classic scents of Tous perfumes through taste. Every savory snacks combine Chinese and Western elements and a full range of classic Spanish snacks.
In addition to a sumptuous afternoon tea at Shenzhen Marriott Hotel Nanshan, diners will also have the opportunity to experience five other Tous-themed afternoon teas at Marriott hotels in Southern China.
Shenzhen Marriott Hotel Golden Bay is offering the Peach & Tous Bear afternoon tea set, which is inspired by one of Tous' signature jewelry boxes. The peach cheese cake, which was also made into the likeness of a Tous jewelry box, harmoniously blends the tanginess and sweetness of Japanese peach and the rich and generous taste of Italian mascarpone cheese.
Boasting Tous' Camille jewelry line and spring atmosphere, the Tous-themed afternoon tea at the Shunde Marriott Hotel embraces the essence of luxury and elegance and is a great choice for leisurely gatherings.