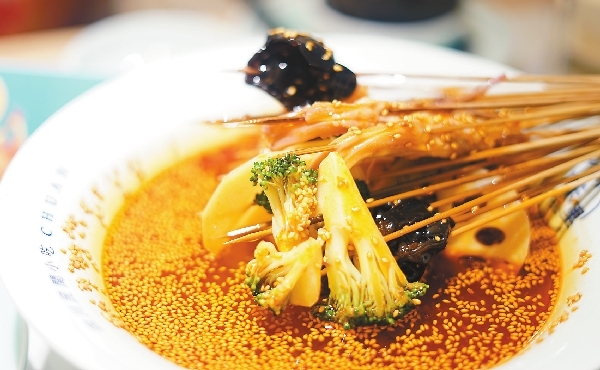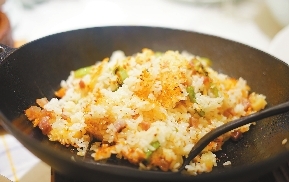 Doria Nan
there_sun@163.com
WHAT'S a better time to try some spicy food than the rainy season? The newly opened restaurant Rong Chuan in Futian District has attracted many gourmets to wait in its long lines.
Sichuan-style cuisine is famous for its signature hot and spicy tastes. Yang Geng, the owner of the restaurant, who is from a family of chefs, conveys his understanding of Sichuan-style cuisine through Rong Chuan — a popular, down-to-earth take on a renowned delicacy. One customer who came to Rong Chuan three days in a row is a perfect example of Rong Chuan's appeal, according to Yang.
"A chicken foot is 1.4 yuan (US$0.2) in the market, and here you can buy a well-cooked delicious chicken foot for 3.5 yuan," said the customer when asked why he comes to the restaurant every day. "This is the true charm of Sichuan cuisine — affordable and delicious food."
The konggan rice served in a pot is a must-try. Sichuan was short of materials and lacked sustenance in the past. Therefore, its people invented this special dish: first fried beans, potatoes and bacon are cooked with a small amount of oil, then a portion of rice is added on top with a little water; it is all cooked together while the savory ingredients amplify flavor into the rice. This cooking technique both saves time and incorporates rice and vegetables into one dish. This dish by Rong Chuan also harkens back to the memories of Sichuanese children, and promotes delicious food and culture through this dish, according to Yang.
The hot pepper chicken combines 5-month-old free-range chicken, canola oil pressed by an ancient method, and green peppers from Sichuan Province's Qingyang County, stir frying them together in a 180-degree-Celsius flame to feature spicy, hot and tender qualities in one dish. Tasting just one will lead to addiction. The heat in people's mouth will definitely make them sweat.
The classic pot chicken, with an over-100-year history, is also made attractive by its special mellow chili oil, which is made of five kinds of peppers.
The simple and stylish restaurant also has a pickle wall which is a perfect place for taking photos and sharing your experience there online.