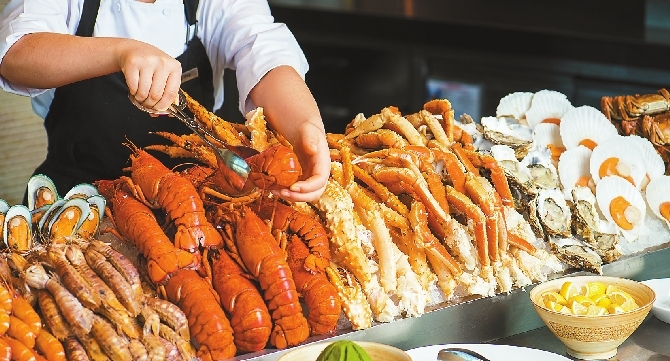 THE Show Kitchen at Grand Hyatt Shenzhen has embarked on a new journey of food innovation through the creation of its refreshing farmers' market concept, which is also a perfect way to celebrate the joys of farm-fresh produce-topped meals.
This farmers' market offers authentic tastes of Europe and America to local gourmands. Headed by the hotel's newly joined executive sous chef Bernhard Cekon in cooperation with director of culinary operations chef Martin Riehl, the food fest features various delicacies from Bernhard's hometown in Austria, as well as gourmet dishes loved the world over. The market highlights include about 10 kinds of premium seafood on ice and cold cuts, fresh sashimi and live fried tempura, authentic Shunde specialties, and added treats for children such as mini burgers, French fries and pizzas.
Bernhard adeptly prepares his signature dish — porchetta — with finesse. The special recipe inherited from his mother is comprised of marinated pork stuffed with Italian sausage and slow-roasted for 2.5 hours. The crispness outside and the juicy tenderness inside is paired with a special beer sauce for a unique taste, with the distinctive and rich flavors echoing with farm freshness.
Topping off the delectable meal is many rare flavors of ice cream along with other indulgent desserts, all of which are sure to please the palate.(SD News)