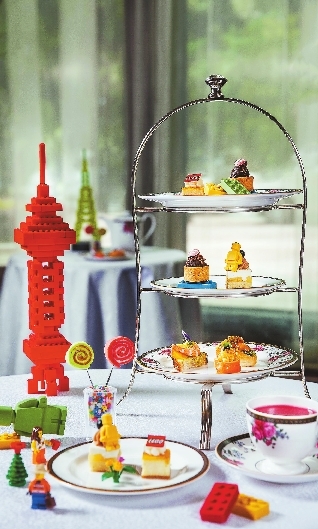 THE Langham, Shenzhen, in collaboration with Lego Education, has launched a Lego-themed morning tea for the last Saturday of each month.
Children can bring their imagination and creativity into full play in the "Lego classroom" while savoring delicacies. Meanwhile, they can also meet and make new friends and enjoy joyful parent-child time with their parents.
Created by the hotel's executive pastry chef Francesco Mannino and his team, the Western-style morning tea features various Lego elements in four desserts of special colors, shapes and features.
The other five savory snacks also have creative twists. The lollipop sandwich with smoked salmon and ham is made into a lollipop shape that children love and becomes the highlight of the table, while the yellow peach prawn guacamole on French bread is a variety of fruit combinations in avocado and bread slices, providing a new and healthy choice for children.
Another option is the chef sandwich featuring the Cajun chicken salad in the classic macaroon. In addition to the tea for two adults, each child can also enjoy the Valrhona hot chocolate with marshmallows presented in a Lego cup.
After morning tea, staff will escort the children to the hotel's Lego site. In this independent space, children can concentrate on creative Lego toy-building under the guidance of teachers from the Lego Education Center.
The "buildings" of different shapes and unique styles are quietly presented to the children in the course of nearly an hour of play.
In the interactive session, children can invite parents to participate in the final creative step. With the same toy package, different families will come up with a range of results.(SD News)